Sides Continue To Publicly Haggle Over Money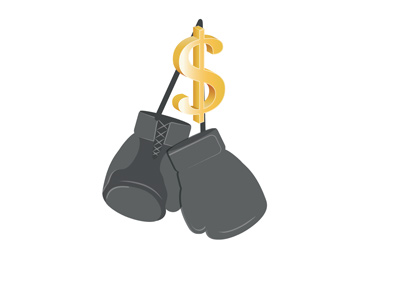 In the world of combat sports, there is one fight that stands above all of the rest as the ultimate "money" fight and that is Conor McGregor vs Floyd Mayweather.
Floyd Mayweather, who shattered PPV records with his widely panned fight against Manny Pacquiao, is currently in "retirement" and has said that he will only fight UFC Lightweight champion Conor McGregor and nobody else. McGregor, who is easily combat sports' biggest star following the collapse of Ronda Rousey, is open to a fight against Mayweather.
Mayweather is known for constructing fights so that he has the maximum possible advantage, so any fight between the two men, should it happen, would take place in the boxing ring and not the "Octagon". Mayweather, who has a perfect 49-0 record and is undoubtedly one of the greatest boxers of all time (regardless of what you might think of him), would surely have a massive advantage if the two men ever did step into the boxing ring together.
-
For his part, Mayweather has insisted on a $100 million guarantee to fight McGregor. Mayweather has said that under his proposed terms, McGregor would receive $15 million and some of the back end PPV money from the fight.
Conor McGregor, who is currently under contract with the UFC, has been keeping a relatively low profile in recent months. UFC President Dana White, however, recently made Mayweather a public offer - $25 million for Mayweather, $25 million for McGregor, and the two men would split a share of the PPV revenues from the fight. According to White, a fight between the two men would likely draw well over 2 million PPV buys.
For his part, Mayweather balked at the offer, calling White a "comedian". Mayweather has long asserted that he is the "A side", while McGregor is the "B side". Recent numbers don't agree with this assessment, as Mayweather's last fight drew less than 400,000 PPV buys, while McGregor has been drawing in the neighborhood of 1.3-1.5 million in his last couple of fights.
Sure, Mayweather has the massive PPV bonanza that was the Pacquiao fight on his resume, but the truth of the matter is that many casual fans were turned off by that fight, due to the high cost and relative tameness of the tilt. This fight had a major impact on the sport, as PPV numbers have been down ever since as many fans have turned to the UFC.
Mayweather has been responsible for a great deal more PPV buys than McGregor over the course of his career - there is no denying that. In terms of who is the biggest star as of this moment, however, things are clearly tilted in McGregor's direction.
-
Will the two sides come to an agreement?
The UFC is now owned by WME-IMG, which has already shown a propensity to want to feature "money fights", irregardless of rankings.
Given the power brokers that run WME-IMG and the potential money and attention that is on the line, I believe that McGregor vs Mayweather (in a boxing ring) will eventually happen.
I also believe that this will be the last million plus buy PPV to take place in a boxing ring for a long, long time.
Filed under:
General Knowledge