US Economy Added 227,000 Jobs in January, Higher Than Expected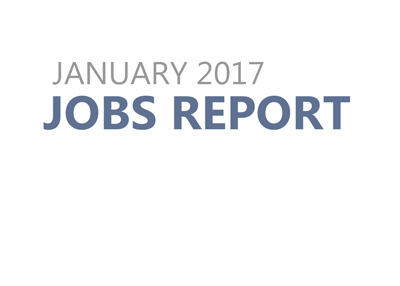 The Bureau of Labor Statistics of the United States Department of Labor released the January jobs report earlier today. This report was notable as it represents the first jobs report that was released when President Trump was sitting in the White House.
The US economy added 227,000 nonfarm payroll jobs in January, which came in higher than the approximately 175,000 jobs that economists had projected would be added during the month.
The Trump Administration was quick to take credit for the stronger-than-expected report - here is White House press secretary Sean Spicer on the report:
"The economy added 227,000 jobs, significantly more than the 175,000 that had been expected. Today's report reflects the consumer confidence that the Trump presidency has inspired."
This statement came roughly a week after the Dow Jones Industrial Average hit 20,000 for the very first time, which the Trump Presidency also made mention of as well.
-
A deeper dive into the January jobs report reveals that the national unemployment rate ticked higher, from 4.7% to 4.8%.
The number of employed Americans decreased from 152,111,000 to 152,081,000, while the number of unemployed also rose from 7,529,000 to 7,635,000. This resulted in the unemployment rate increasing by 0.1%.
The civilian labor force increased from 159,640,000 to 159,716,000, which resulted in the labor force participation rate increasing from 62.7% to 62.9%.
The U-6 unemployment rate, which is an alternative measure of unemployment that includes a number of people not included in the "official" unemployment number, rose from 9.2% to 9.4%.
-
President Trump has labelled himself as the "greatest jobs President ever", which means that he will be under pressure to continue to add significant jobs to the nation's economy.
Source:
BLS.gov
Filed under:
General Knowledge