Netflix Expects To Cross Mark "This Weekend"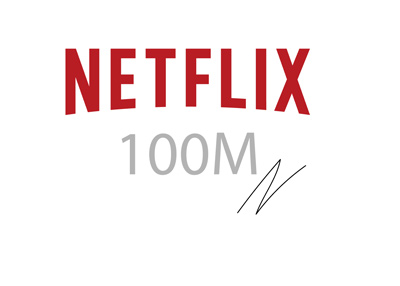 Netflix, the company which was laughed out of the offices of Blockbuster a number of years ago, is now close to passing the 100 million subscriber mark worldwide.
After a quarter in which Netflix added roughly 5 million subscribers, CEO Reed Hastings revealed that the company would likely be passing the 100 million subscriber mark this weekend.
The transition of Netflix from a DVD rental company to global streaming content giant has been an interesting one to watch. The company has had some stumbles along the way and their fair share of doubters, but there is no doubt that they are now one of the most influential media companies in the world.
A number of years ago, Netflix was at a crossroads. In their initial years as a company, Netflix found that acquiring the licenses to show content (mostly movies) on their platform was quite cheap, as their service was new and nobody really took them seriously. Most of the movie studios that dealt with Netflix at the time treated their licensing dollars as "found money".
As Netflix grew in size and their streaming content product took off in popularity, these movie and TV studios realized that they would be able to extract much more money from the company.
It was at this point that Netflix decided to go into the business of producing their own content, and this move has resulted in Netflix now being worth north of $50 billion.
The content that viewers couldn't get anywhere else - "House of Cards", "Stranger Things", "Narco", etc - is what made the Netflix subscription so sought after. In fact, many people are able to satisfy their TV viewing needs solely with their Netflix account, which has resulted in many people choosing to "cut the cord" when it comes to their cable TV packages.
-
The downside, of course, is that producing your own content is very expensive. Netflix revealed in their conference call that they expect to spend more than $6 billion on programming this year.
In addition, the company's foray into many different foreign markets is also expensive, as Netflix is expected to spend more than $1 billion to "drive member acquisition" in 2017.
-
Netflix believes that they still have plenty of room for growth still, even in the United States.
That continued growth, however, is going to come at a steep cost in the forms of increased content and acquisition costs.
Filed under:
General Knowledge