Detroit Pistons The Latest NBA Team To Sign Jersey Advertising Deal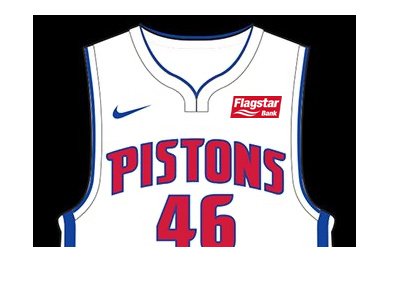 The NBA, which is flush with cash after signing a very lucrative national TV deal, is looking to cash in on another revenue stream - jersey advertising deals.
In soccer leagues around the world, jersey advertising is commonplace. In the English Premier League, advertisers dominate the uniforms of teams such as Manchester City and Chelsea. These clubs generate phenomenal amounts of money from these ads, and the North American leagues are starting to get in on the fun as well.
The NBA, which has one of the most forward-thinking commissioners, said last year that they would start allowing ads on jerseys. The advertisements are not big - instead, they are small patches that are located on the left shoulder of the players.
Each team is welcome to sign their own deals - according to some reports, more popular teams will be looking to command up to $20 million per season from the ads.
-
Earlier today, the Detroit Pistons became the 9th team in the league to sign a patch deal. There are some blue chip sponsors that are looking for real estate on the uniforms, as Disney and General Electric have both signed deals (GE with Boston, Disney with the Orlando Magic).
NBA clubs and players split evenly in the jersey deal - according to Darren Rovell, 25% of the patch revenues go to the team that did the deal, 25% goes into a team revenue sharing pool, while the rest goes to the players.
-
There is practically no doubt that the rest of the major North American leagues will follow suit with similar patch deals in the coming years.
If the NBA's clubs are charging up to $20 million/season for a patch deal, there is little doubt that NFL teams, especially the likes of the Dallas Cowboys and New England Patriots, could command upwards of $50 million/season for similar deals.
-
Here is the current list of NBA teams who have signed patch deals:
Detroit Pistons/Flagstar Bank
Philadelphia 76ers/Stubhub
Brooklyn Nets/Infor
Sacramento Kings/Blue Almond Diamonds
Boston Celtics/GE
Cleveland Cavaliers/Goodyear
Orlando Magic/Disney
Toronto Raptors/Sun Life
Minnesota Timberwolves/Fitbit
Filed under:
General Knowledge