Floyd Mayweather: I'll Clear $300 Million From Fight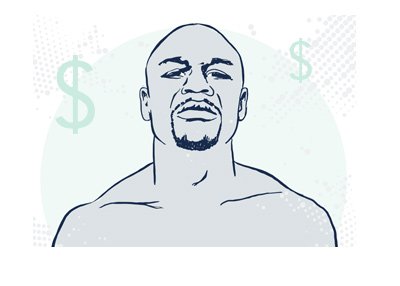 The Conor McGregor vs Floyd "Money" Mayweather fight is now less than three weeks away.
The fight between Floyd Mayweather and Manny Pacquiao brought in an estimated $600 million in total revenues, after accounting for PPV sales, closed-circuit TV sales, sponsorships and ticket sales. Mayweather, who was able to negotiate himself a 60/40 split, ended up walking away with a reported $230 million. At the time, nobody believed that the PPV sale record for Mayweather/Pacquiao would ever be broken.
Fast forward a couple of years and you have a fight that could possibly break the record, as Mayweather is going to be stepping into the ring against Conor McGregor on August 26th.
Mayweather currently has a 49-0 record as a professional boxer and is regarded as one of the best of all time. McGregor, who is a 2-time UFC title holder, has never fought a professional boxing match in his life.
Despite the apparent mismatch, fans are clamouring to see this fight. The promoters have done a good job of pitching the "puncher's chance" that McGregor has, given Mayweather's age (40) and McGregor's ability to knock out his opponents in the UFC.
This article isn't about McGregor's chances in the fight, however - it is about how much both men stand to make.
-
The two sides signed a confidentiality agreement, which means that the payout terms aren't being disclosed.
There are a couple of hints that we can use to help determine the payouts, however, including:
1) Floyd Mayweather agreed to terms very quickly. Mayweather is known as being a tough negotiator, and the fact that his camp agreed to terms so quickly leads me to believe that he received a very favorable deal. I would guess that of the PPV split, Mayweather is receiving 75%+.
2) McGregor's negotiating position wasn't all that strong. Sure, McGregor is a massive global star right now, though he is still under UFC contract and has never had a payday of this size before. A $90-$100 million payday for McGregor is still a massive, massive amount of money, and he would be likely to take that amount despite the fact that Mayweather is going to make much more.
In order to get this fight, McGregor and the UFC had to come to terms on a side deal. This would likely involve the UFC getting a cut of McGregor's purse (which will be $50 million+) and a bigger cut of McGregor's PPV take.
There are rumors that the UFC will get 20% of McGregor's purse and half of his PPV take, which would put the organization's cut at approximately $40 million.
If McGregor is humiliated by Mayweather, the UFC will need some sort of compensation, as their biggest PPV draw will see his standing in the sports world diminished. $40 million seems like a reasonable return for such a risk. If McGregor can somehow remain competitive or even (gasp) win, the UFC would stand to realize a significant financial windfall as McGregor would become an even bigger global superstar.
-
Floyd Mayweather has already alluded to the fact that he stands to make $300 million or more from the McGregor fight.
McGregor, on the other hand, has said that he will make roughly $100 million if the fight sells the same or more than the Mayweather/Pacquiao fight.
This numbers both make sense, given a projected 75/25 PPV revenue split and the fact that McGregor will need to pay a commission to the UFC.
At the end of the day, the final payouts should end up looking something like this:
Floyd Mayweather, $300 million+
Conor McGregor, $100 million
UFC, $40 million
Filed under:
General Knowledge