Named Defendants Alleged to Have Profited From Edgar Intrusion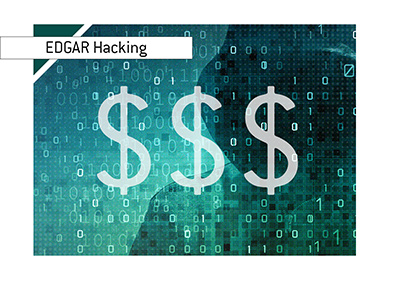 In 2016, a hacker was alleged to have accessed EDGAR, which is the SEC's Electronic Data Gathering, Analysis and Retrieval system. This is the system that companies use to file their annual and quarterly reports, amongst other things.
In August of 2017, newly named SEC Chairman Jay Clayton revealed the intrusion and named the steps that the agency would be undertaking to make sure that another intrusion didn't happen in the future.
The incident highlighted the vulnerability of the EDGAR system and led many to wonder - who had profited from the intrusion?
Earlier this week, the SEC, which is down to its barest of bones due to the government shutdown, revealed the answers to that question.
Nine defendants - including six traders, two entities and one hacker - were named by the SEC in their complaint. The SEC alleges that there was more than $4 million in illicit profits made as a result of the intrusion, with a Russian trader taking home nearly $1.1 million from the scheme.
The SEC alleges that a Ukrainian hacker gained access to the EDGAR system and was able to circumvent the user validation system.
This hacker gained access to "test filings", which is what companies use to test the filing system in anticipation of making an important new filing, such as a quarterly report. In many cases, companies simply used their real quarterly filing instead of a "test filing".
The Ukrainian hacker was able to view these test filings and relay the information to a number of different traders throughout the world.
The SEC is seeking penalties, the return of ill-gotten gains and the enjoinment from committing future violations of antifraud laws. The U.S. Attorney's Office of New Jersey has also filed related criminal charges against the men.
-
The defendants involved in the scheme reportedly took steps to hide their trades, using offshore accounts and brokerage accounts in the names of other people. The SEC has said that there are four other people that they will be going after to recover illicit profits - these are people whose accounts were used in the scheme.
-
Over the past number of years, hackers had gotten access to EDGAR and news wire services to illicitly profit from advanced knowledge of news and the proliferation of false information.
This has forced organizations such as the SEC to dramatically beef up their security, as the potential ramifications of a security breach could be much worse than somebody simply profiting off of non-public information.
Source: SEC.gov -
SEC Brings Charges in Edgar Hacking Case
Filed under:
General Knowledge