A Look Behind The Mechanics of Negative Oil Prices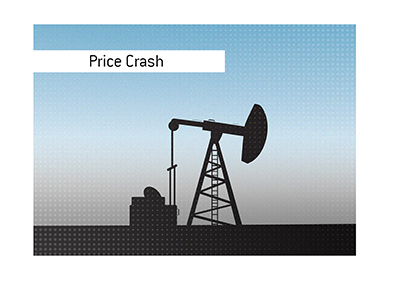 Earlier today, May WTI Crude Oil Futures traded down to negative $40 per barrel.
That's NEGATIVE $40 a barrel.
The May contract for West Texas Intermediate Light Sweet Crude started Monday in the green (positive) and sold off all day, eventually going (very) negative.
Instead of having to PAY for a barrel of crude oil, you could have been paid $40 per barrel by the end of the day.
How did this happen? How is this possible?
To start - if you are trading in the futures market and the contract isn't settled in cash, you have to take delivery of the commodity if you own a contract at expiration.
So, if you own a May WTI Crude Oil futures contract at expiration, be prepared to accept delivery of the oil.
Cushing, Texas is an important place to know.
Cushing, Texas is an "officially designated delivery point" - if you elect to hold your WTI Crude Oil contract and accept delivery, your oil will likely end up in Cushing, Texas. In fact, a decent chunk of the United States' crude inventory is held in Cushing, Texas.
Now, heading into the expiration of the May contract on April 21st, there was a problem.
Oil prices have been plummeting due to a drop in demand due to the Coronavirus. This has led to a massive increase in supply, which has led to a drop in oil prices.
In fact, there was so much supply that Cushing, Texas no longer had the room to store oil.
So, if you were holding the May WTI Crude Oil contract, what do you do now? Store it in your backyard? Of course not - you look to sell the contract.
The problem? Everybody stampeded to the door, causing the contract to plummet and eventually turn negative. Firms that had bought the contract on margin were forced to sell by their brokers, and this contributed to the stunning drop in prices.
-
Is oil really less than $0 to buy? No.
In fact, the June WTI crude oil contract currently trades at over $20.
The drop in the May WTI Crude Oil contract was caused explicitly by panic selling. Firms had no place to store the oil, as there is SO much oil above ground in the world right now.
So, they hit the eject button on their contracts, as did everyone else, and the prices plummeted.
President Trump wants to use the crash in oil prices to fill the Strategic Petroleum Reserve from 635 million barrels (current) to the authorized limit of 713.5 million barrels.
Filed under:
General Knowledge