Average Value of World's Biggest Teams Jump By 9.9% in 2020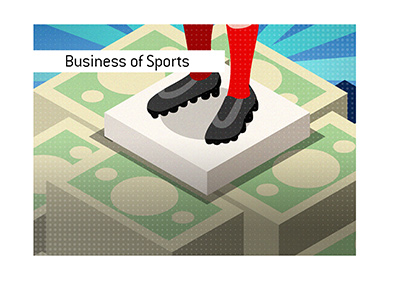 You'd think that the runaway valuations of the world's biggest sports franchises, including the likes of the Dallas Cowboys, New York Yankees and New York Knicks, would have dropped in 2020.
After all, the COVID-19 pandemic dramatically altered the sports landscape. Games were cancelled and then played in empty stadiums. TV ratings dropped.
The reality of that the average value of the world's top 50 most valuable franchises soared in 2020, despite the pandemic.
According to Forbes, these 50 teams saw their values skyrocket by 9.9% in 2020.
That means that these 50 teams saw their valuations jump by an average of about $300 million.
There are now three franchises - the Dallas Cowboys, New York Yankees and New York Knicks - with valuations of more than $5 billion.
-
So what happened? Why are the valuations of these franchises higher, and not lower as a result of the pandemic?
Here are the reasons why the value of these franchises rose last year:
1) TV Deals.
The NFL signed blockbuster TV deals that will see them receive a minimum of $113 billion over a total of 11 years.
These deals were inked with the likes of Disney, Amazon, Fox and NBC.
The market for sports TV deals is obviously very healthy still, and this provided a boon for the valuations of sports franchises across the world. There is no sign that the appetite for sports content on television will be dropping anytime soon.
2) Sports Betting.
With the legalization of sports betting spreading across the United States, this has helped to increase the value of franchises, as teams rush to sign deals with sports books and ancillary companies.
A decade ago, the major four North American sports leagues were adamantly opposed to legal sports betting.
Now, teams in these same leagues are rushing to ink deals with the likes of DraftKings and build sports books in their stadiums.
Money changes everything.
3) The printing press.
With governments around the world continuing to fire up the printing presses, inflation is pushing up the valuations of these franchises, as a dollar just doesn't stretch as far as it used to.
This will means higher prices for hot dogs, higher prices for tickets, higher prices for team merchandise, etc.
This just translates into higher revenues for clubs and higher valuations.
4) Scarcity.
Teams just don't go on sale very often, and when they do, there is usually a frantic bidding process that drives valuations into the stratosphere.
-
All in all, the business of owning a professional sports team still looks to be a very healthy one.
Source: Forbes.com -
World's Most Valuable Sports Teams 2021
Filed under:
General Knowledge