Enter The World of Daily Fantasy Sports at DraftKings
Follow These Steps For Your Bonus
--
1. Click Here To Activate Your Bonus
2. Enter Promo Code ROYALBONUS
DraftKings is currently offering all of its new customers the opportunity to earn an initial deposit bonus of up to $600.
Qualifying for the bonus is easy and earning the bonus is even easier.
To qualify for the bonus, simply enter ROYALBONUS when prompted for a "DraftKings Promo Code". This will entitle you to receive an initial 100% deposit bonus of up to $600.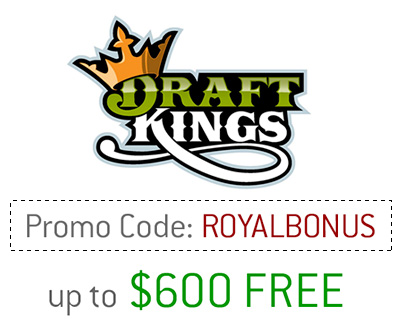 After qualifying for the bonus, you will need to make a deposit in order to activate your bonus. DraftKings offers a matching bonus of up to $600, which means that they will match the size of your INITIAL deposit with a bonus of up to $600. So, if you choose to initially deposit $100 on the site, you will be eligible for a bonus of $100.
Now, bonuses are cleared by participating on the site. For instance, if you enter yourself in the Millionaire Maker after signing up, you will earn yourself a bit of the bonus. The more you play, the faster you will earn your bonus.
-
DraftKings is easily one of the stars of the daily fantasy sports industry. How do I know? I am a loyal customer of theirs and will continue to be for a long, long time.
If you are looking for other evidence that the site is legit, let me give you a few pieces of information:
1) DraftKings recently signed a deal with the National Hockey League
2) DraftKings recently signed a deal with the Philadelphia 76ers
3) DraftKings has millions of customers
4) DraftKings pays out many millions of dollars in prizes each and every week
5) DraftKings recently raised over $40 million in venture capital financing
-
DraftKings offers a number of daily fantasy sports offerings on their site, including NFL, college football, basketball and golf.
Football obviously drives the bus for DraftKings, though its offerings of NBA and golf have grown dramatically over the past year or so. In addition, DraftKings recently took the step of offering soccer.
What is daily fantasy sports? Well, let's say that we are entering Week 13 of the NFL. With regular fantasy sports, you pick your team before the season starts and tweak your club throughout the year. With daily fantasy sports, you pick a new team each and every week. It costs money to enter each tournament, but there is also money to be won. For instance, DraftKings offers the Millionaire Maker each week of the NFL season, with the eventual winner of the tournament taking home $1 million. That's life-changing money that can be won via a weekly football fantasy tournament - somebody, just like you and I, walks away with $1 million every week of the NFL season. That's pretty cool.
-
If you are going to dip your toe into the world of daily fantasy sports, I would highly recommend doing it with DraftKings. They are a great company and I doubt that you will be disappointed.
DraftKings Promo Code
-
ROYALBONUS
DraftKings Promo Code
Reviewed By:
Dave Manuel
Review:
10

/

10
Note:
I have a business relationship with DraftKings.