Economist GMAT Offers Free 7-Day Trial
Click Here To Take Your FREE 7-Day Trial
--
The GMAT (Graduate Management Admission Council) exam is used by more than 5,900 graduate programs spread out over 2,100 universities and other institutions as an integral part of their selection criteria.
In short - it's super important.
In order to do as well on the GMAT exam as you possibly can, you need to take advantage of all of the best tools. One of the best tools out there is the Economist GMAT Tutor program.

To start, the Economist GMAT Tutor program offers guarantees depending on which package you eventually end up going with. If your GMAT score doesnít improve by at least 50 points with their complete GMAT prep plan or by 70 points with the premium or ultimate plans, you get a full refund.
In addition, the program offers a free 7-day trial so you can see what they are all about. At the end of the trial period, if you like what you see, you can elect to sign up for one of their packages.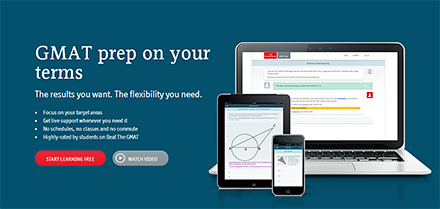 So what does the Economist GMAT Tutor program offer?
To start, the program uses adaptive technology so that you receive the greatest amount of help in the areas that you are most deficient in.
The program offers:
-5,000 practice questions
-personalized essay marking
-support via a global team of GMAT instructors that are accessible via in-app messaging or live video chats
-complete customization based on your needs
The program offers full-length GMAT practice tests so that you are fully prepared for when you take your exam. If you are stuck on a certain question, simply use the ask-a-tutor messaging system via the customized dashboard to immediately get some help.
There are no classes and no schedule, which means that things are tailored entirely to your life. In addition, the Economist GMAT Tutor program is available via iPhone and Android app so you will be able to work while you are on the go.
--
If you decide that you like the program after your free trial period is up, you can decide on one of these three programs:
Complete Prep - $550/3 months
Premium Prep - $770/3 months
Ultimate Prep - $940/3 months
As mentioned, the Complete Prep package guarantees that your GMAT exam score will improve by at least 50 points or your money back, while the Premium and Ultimate Prep packages guarantee an increase of at least 70 points.
There is NO obligation to sign up for one of these packages if you choose to take advantage of the free trial.
The difference in the three packages comes from the # of ask-a-tutor questions, live 1-to-1 session, practice exams and essay markings that you think youíll use.
--
The Economistís GMAT Tutor program is very well-reviewed as they currently have a 4.5/5 star rating on Beatthegmat.com - here are some of the comments (these are from real, verified students):
"Great self learning course that allows you to learn at your own speed"
"Excellent, thorough and adaptive learning experience"
"All you need to get the score you want"
--
Click Here To Take Your FREE 7-Day Trial
Economist GMAT Tutor Program
Reviewed By:
Dave Manuel
Review:
10

/

10
Note:
I have a business relationship with Economist GMAT Tutor program, and I get paid every time you click a link on this page and sign up for one of their products.