Media Temple Review
Enter MANUEL as Your Special Offer Code To Get 20% Off Your Initial Price of Web Hosting
Media Temple, which was established back in 1998, is currently offering the readers of this site a special promotion - 20% off of your initial price of web hosting.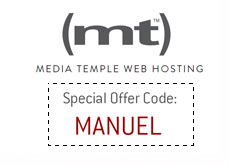 Media Temple is over 15 years old, which is eons in the world of web hosting. In order to have a web hosting company with that type of longevity, you must have established a steady base of clients through years of reliable service. There are literally thousands of web hosting companies out there, and for Media Temple to have been around for this long speaks to their sterling reputation.
Here are some stats about the company if you don't believe me:
-125,000 customers in 100 countries
-more than 1.5 million hosted web sites
-206 employees (90% of which are dedicated to customer service)
Media Temple has been recognized as one of the fastest growing companies in Inc. Magazine.
There are some very big companies who utilize Media Temple's services, including Starbucks, Adidas and Samsung. If they are good enough for those giants, they are good enough for you as well. Companies like Starbucks and Adidas aren't going to use second-rate web hosting companies.
Here is a look at the Media Temple operation:
--
Media Temple has gotten such a great reputation due to their diverse and affordable product offerings and outstanding customer service. The company is easily accessible 24/7 via email, phone, Twitter and Facebook. Unlike other web hosting companies, Media Temple publishes all of their contact numbers on their web site.
--
Now, Media Temple offers a number of different packages, depending on what you are looking for.
Their cheapest package starts at $20/month and offers:
-the ability to host 100 different web sites
-1 TB month in bandwidth
-100 GB storage
-1,000 email accounts
If you want your own VPS, packages start at $50/month, while managed hosting deals start at $349/month.
Media Temple also offers a special Premium Wordpress hosting package that is $29/month. This includes unlimited bandwidth, 3 Wordpress installs and a 1 click staging environment. If you were thinking about starting up your own blog, this package is probably for you.
All of the packages come pre-installed with PHP, Perl, Python, Apache and MySQL. The site also offers one-click installs for Wordpress, Drupal and ZenCart.
The sign-up process is super simple, and you can have your site up and running in just a couple of minutes. Simply choose your domain, enter your personal details and voila! Your site will be ready to go.
--
Don't forget to enter MANUEL as your special offer code in order to qualify for 20%! Please note that this discount doesn't apply to domain registration, Virb or Managed Hosting.
Media Temple Special Offer Code
Reviewed By:
Dave Manuel
Review:
9.4

/

10
Note:
I have a business relationship with Media Temple, and I get paid every time you click a link on this page and sign up for one of their products.