WSJ: Groupon Board of Directors To Discuss Proposed Deal on Wednesday
According to the Wall Street Journal, Google is on the verge of closing its biggest acquisition to date - a proposed $6 billion deal for local deals site Groupon.
This is not a done deal, as Groupon's board of directors are meeting on Wednesday to discuss the proposed acquisition. Groupon's board could decide to go in a different direction, such as raising more capital or going public.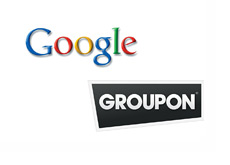 Google's largest acquisition to date was a $3.1 billion deal for DoubleClick in 2007. If the Groupon deal goes through, and if the reported numbers are correct ($5.3 billion plus an estimated $700 million in earnouts), then the Groupon deal would easily be Google's largest since its inception.
Groupon is a site that hooks up local deals in return for a cut of the revenues. Companies who participate in the deals offer steep discounts in return for receiving potentially thousands of new customers. For instance, a nail salon may offer a 50% discount off of their services, but in return they could potentially have thousands of new and loyal customers heading through their doors.
Groupon has exploded in popularity over the past number of months, which has drawn attention from companies such as Yahoo! and Google. Yahoo! has reportedly been wooing Groupon as well, but they have been unsuccessful in their efforts so far.
--
Google currently has a valuation of over $177 billion and is sitting on over $33 billion in cash, so they can easily afford to do this deal.
Whether or not Groupon is actually worth $5-$6 billion is an entirely different story altogether..
Source: WSJ.com -
Google In Talks to Buy Deals Site Groupon