What is the Salary of the US President?
How much money does the President of the United States make?
The President of the United States receives an annual salary of $400,000. The last raise that the US President received? That came in 2001, when the leader of the free world received a pay increase that took his salary from $200,000 to $400,000.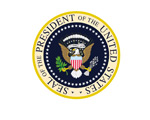 In addition to the $400k salary, the US President also receives the following on an annual basis:
-$50,000 non-taxable expense account
-$100,000 non-taxable travel account
-$19,000 for entertainment
--
Now, what about former Presidents? How much money do they receive on an annual basis from the government?
Let's start with the pension. All former US Presidents receive a taxable pension "that is equal to the annual rate of basic pay for the head of an executive department (Executive Level I)". That amount is currently $191,300.
Former US Presidents start receiving this pension immediately upon leaving office.
Other perks that former Presidents are entitled to:
-Secret Service protection
-staff salaries
-staff benefits
-travel expenses
-rental payments
-telephone expenses
-postage expenses
-printing expenses
-equipment expenses
Former Presidents also are usually presented with a number of different lucrative money-making possibilities, including writing memoirs or giving speeches.