Definition of 1979 Energy Crisis
What was the 1979 energy crisis? What is meant by the term 1979 energy crisis?
In 1973, the global economy (especially the economy of the United States) was rocked by the
1973 oil crisis
. This crisis helped to dramatically increase the price of oil in the country. However, the price of oil really went parabolic in 1979 with the onset of the 1979 energy crisis.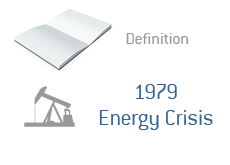 The 1979 energy crisis started when the Shah of Iran, Mohammad Reza Pahlavi, fled the country amidst protests. These protests severely disputed the oil industry in Iran, leading to decreased production and the suspension of exports. Ayatollah Khomeini was soon installed as the new leader of the country, but oil still flowed slowly out of the country, leading to a continued increase in prices.
In 1980, Iraq attacked Iran, leading to a slowdown in oil production from both Iraq and Iran.
All of these events conspired to disrupt net oil exports, which resulted in the price of oil spiking.
In April of 1979, the average price of crude oil was $15.85 per barrel. Over the next 12 months, oil would spike to nearly $40 per barrel, which was an incredible increase from the levels seen before the 1973 oil crisis.
The eventual undoing of these high prices would come as a result of reduced worldwide demand and overproduction. After hitting a high of $39.50/barrel in 1980, oil plunged for the next six years straight, climaxing in a 46% price drop in 1986.
--
Davemanuel.com Articles That Mention
1979 Energy Crisis:
The United States Public Debt, 1791 to 2010
Gold Still Well Off Of Its Inflation-Adjusted All-Time High
Past Recessions and Recoveries in the Unemployment Rate