Definition of Conditional Veto
What is a "conditional veto"? What is the definition of a "conditional veto"?
A "conditional veto" occurs when a leader (such as a Governor) rejects parts of a bill and sends it back to the legislature for more work.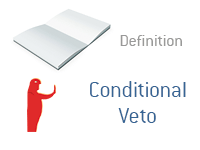 The leader will propose amendments that would make it acceptable. Once those amendments have been added, the bill will be sent back to the leader for their final approval.
Let's take a look at an example.
An example of a conditional veto recently occurred in New Jersey.
Members of the New Jersey legislature passed an online gaming bill that would allow Atlantic City casinos to offer Internet gaming (poker, roulette, etc) to residents of New Jersey.
Governor Christie issued a conditional veto on the bill, asking for a number of amendments to be made before he gave his final approval. Those amendments included the implementation of increased funding for compulsive gamblers, the introduction of a 10-year sunset for the bill and a few other items. Once the changes have been made, the bill will be sent back to Christie's desk for his final approval.
--
Davemanuel.com Articles That Mention
Conditional Veto:
None