Definition of Couch Commerce
What does the term "couch commerce" mean? What is the definition of the term couch commerce?
Couch commerce refers to the phenomenon of people doing their shopping using tablet and smartphone devices.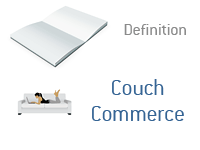 With the introduction of the iPad from Apple, tablet sales have skyrocketed over the past couple of years. Online retailers have jumped on the bandwagon by introducing versions of their online storefronts that cater to people who use tablet devices.
The term "Couch commerce" is derived from the fact that many people will be sitting on their couch (or in the bath, or outside on the balcony, etc) while they do their online shopping this year. The introduction of the iPad and similar tablet devices has completely changed the buying experience forever.
--
Davemanuel.com Articles That Mention
Couch Commerce:
None