Definition of Megxit
What does the term "Megxit" mean? What is the definition of the term "Megxit"?
The term "Megxit" is a play on the term "Brexit" and refers to the decision of Prince Harry, Duke of Sussex and Meghan Markle, Duchess of Sussex to "step back" as members of the Royal Family.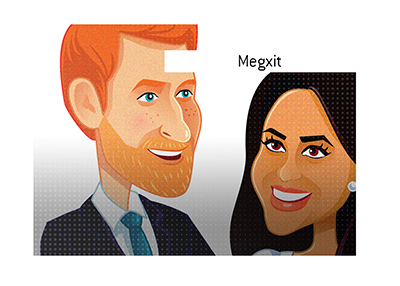 Prince Harry and Meghan Markle announced via their Instagram account that they had made the decision to split time between Canada and the United Kingdom and become "financially independent".
This set off a firestorm in the United Kingdom, as Buckingham Palace was apparently taken off-guard by the statement that Prince Harry and the Duchess sent out. Apparently the Queen was aware of the couple's intentions, though the factions were still negotiating the "Megxit".
The main members of the Royal Family met at the "Sandringham Summit", where it was decided that Harry and Meghan would no longer be "working members of Britain's royal family", and that the couple would give up their "royal highness" titles. In addition, the couple agreed to pay back millions of dollars that were spent to upgrade their home.
-
Meghan Markle has been the subject of intense scrutiny in the United Kingdom since becoming a member of the Royal Family, and many have pointed to countless cases of racism as a likely catalyst behind the couple's decision to give up their royal duties.
In addition, there are countless opportunities for the couple in North America, and the couple has already launched a new brand named "Sussex Royal". There is no doubt that countless opportunities and many millions of dollars await the couple in North America.
Meghan Markle is an extremely polarizing figure in the United Kingdom, so there was little surprise regarding the mixed reaction that the news received in the country.
Many felt that the Duke and Duchess of Sussex were making the correct decision, and that the unfair treatment of them in the UK media was enough to drive anyone from the country.
Others felt as though Meghan Markle was splintering the monarchy and that she deserved to be cast out of the Royal Family.
As part of the final agreement with the Monarchy, the couple agreed that they will no longer represent the Queen, that they will be financially independent of the UK taxpayer, that Harry would resign all of his military commissions, that the couple would pay a commercial rent for their Frogmore Cottage home, that they would spend most of their time in North America and that the couple would continue to receive financial support from the Duchy of Cornwall.
--
Davemanuel.com Articles That Mention
Megxit:
None