Definition of Micro Bitcoin Futures
If you want to buy a Bitcoin futures contract right now, you'd better have some deep pockets.
CME Group current Bitcoin futures contract will cost you approximately $300,000 USD, as each contract is the equivalent of 5 Bitcoins.
With Bitcoin soaring in price, this has put the product out of the reach of most investors and traders.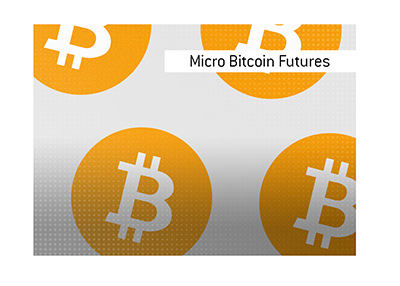 Earlier today, the CME Group announced a solution, as they plan on introducing their "Micro Bitcoin" futures contract on May 3rd, subject to regulatory approval.
This means that one contract will be equivalent to about $6,000 USD, based on the current prices for Bitcoin.
-
The CME Group continues to expand their cryptocurrency offerings with the release of their new Micro Bitcoin futures contract.
In early February, the company came out with their Ether futures contract, which lets you play the rise and fall of Ethereum without having to actually buy the cryptocurrency.
Brokers like Interactive Brokers will allow you to buy futures if you have the funds and experience, and this is often an easier solution than buying actual coins, which many people still don't feel comfortable doing.
-
The new Micro Bitcoin contracts will be cash-settled, based on the CME CF Bitcoin Reference Rate.
Source: CMEGroup.com -
CME Group To Launch Micro Bitcoin Futures on May 3rd
--
Davemanuel.com Articles That Mention
Micro Bitcoin Futures:
None