Definition of Retail Shrinkage
What is the definition of the term "retail shrinkage"? What does the term "retail shrinkage" mean?
"Retail shrinkage" is the loss of a retailer's inventory from shoplifting, employee theft, supplier error/fraud, cashier errors and other causes.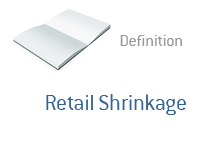 The two biggest causes, by far, of "retailer shrinkage" are shoplifters and employee theft. According to the Centre for Retail Research, shoplifting made up 43.2% of all retail shrinkage in 2011, while employee theft made up an additional 35%.
Retail shrinkage is a big problem - retailers lost $119 billion worth of inventory to "retail shrinkage" in 2011. This was up 6.6% from 2010.
Companies employ all sorts of different methods to reduce "shrinkage", including the installation of cameras, hiring of security guards and implementation of state-of-the-art inventory management systems.
--
Davemanuel.com Articles That Mention
Retail Shrinkage:
Retail Nightmare: Employee Theft, Shoplifting Increase in 2011