Greenwich Home Up For Sale For $190 Million
Got an extra $190 million kicking around?
If so, there is a Greenwich, Connecticut house with your name on it, as that is what the most expensive real estate listing in the history of the United States will cost you.
What does $190 million buy you?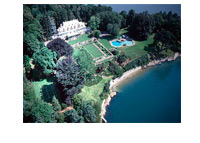 According to the Wall Street Journal (link below), the $190 million 12-bedroom house sits on 50 1/2 acres and includes two offshore islands. 4,000 feet of the property sits on Long Island Sound.
According to public records, the property, also known as "Copper Beach Farm", is being sold by John Rudey. Rudey, who graduated from Harvard Business School with an MBA, made his fortune in the timber industry. The Rudeys look to be cutting back on their real estate holdings, as they sold a New York City apartment in January of this year for $16.5 million.
--
According to the real estate listing for the property, "Copper Beach Farm" has 15,000 square feet of living space and an additional 7,000 square feet of attic/basement space.
The estate sits on multiple parcels of land. According to the listing agent for the property, the true value for a potential buyer lies in subdividing the land and selling it off. If you do this, the listing agent surmises, you could have a property that is worth more than $200 million.
--
Source: WSJ.com -
A Greenwich House Aims To Sell for $190 Million
Photo:
Davidogilvy