Paulson and Co. Inc. Acquires 43.7 Million Share Stake in ACAS
In a Form 13G filing that was released by the SEC earlier today, Paulson and Co. Inc. formally announced that they had purchased a 15.5% stake of American Capital, Ltd. (ACAS)
Paulson's purchase actually hit the news a few weeks ago when it was revealed that his company would be snapping up nearly 75% of American Capital's $295 million stock offering. The company is using the proceeds of the offering to raise capital for a debt restructuring.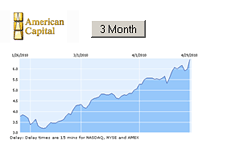 Following the transaction (which priced at $5.06 per share), Paulson and Co. Inc. became the largest single shareholder in ACAS.
The Form 13G filing for the transaction was released earlier today. According to the filing, April 19th, 2010 was the date that officially required the filing of the 13G.
A Form 13G filing means that this is a "passive stake" for Paulson and Co. Inc., though this could always change.
The purchase was spread out over various Paulson companies:
Advantage Master - 4,271,549 shares
Advantage Plus Master - 9,200,181 shares
Select Master - 88,691 shares
International - 2,695,120 shares
Enhanced Ltd. - 7,538,947 shares
Recovery Master - 14,500,000 shares
Paulson Partners - 984,876 shares
Enhanced LP - 1,404,403 shares
Paulson's Separately Managed Accounts - 3,041,233
The grand total - 43,725,000 shares.
Seven of the 102 funds that we track in our database owned positions in ACAS as of 12/31/2009. They were:
AQR CAPITAL MANAGEMENT LLC (2,266,535 shares)
BLUE RIDGE CAPITAL HOLDINGS LLC/BLUE RIDGE CAPITAL OFFSHORE HOLDINGS LLC (686,279 shares)
CITADEL ADVISORS LLC (428,451 shares)
D. E. Shaw & Co., INC. (1,649,887 shares)
DIAMONDBACK CAPITAL MANAGEMENT, LLC (10,500 shares)
GOLDMAN SACHS GROUP INC (475,382 shares)
SAC Capital Advisors LP (26,600 shares)
ACAS has been on a tear as of late, trading from about $3 in early January to its current level of $6.45. Paulson and Co. Inc. who purchased their shares at $5.06, has already seen its investment in ACAS increase by over 27%.
Source:
Paulson and Co. Inc. Form 13G Filing for ACAS
Source:
Davemanuel.com ACAS Quote