Daniel Loeb Aims His Sights at Yahoo!
It's been a tumultuous last few days at Yahoo!
Carol Bartz, former CEO and President of Yahoo!, was fired after an unsuccessful 2 1/2 year campaign at the helm of the company. In an embarrassing twist (both for herself and Yahoo!), Bartz revealed that she had been fired over the phone.
Yahoo's shares have barely moved over the past 2 1/2 years, and shareholders are growing increasingly agitated. To make matters worse, the company famously turned down a $31/share offer from Microsoft in 2008. Yahoo's shares are currently languishing at $14.44.
There is no question that Yahoo! has some valuable assets. The problem, of course, is that the company hasn't been able to use those assets to propel their shares higher.
Daniel Loeb, founder of Third Point LLC, believes that shares of Yahoo! are undervalued.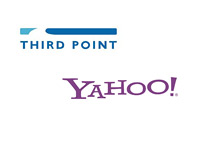 Third Point LLC is an $8 billion hedge fund that is based out of New York City. The fund is known for taking positions in companies that it deems to be "undervalued" and then agitating for change - the true definition of an activist shareholder.
Third Point LLC revealed earlier today that they had acquired a 5.15% stake in Yahoo!, which translates into a 65,000,000 share position (including options). Third Point LLC started acquiring their stake in the Internet firm in early August.
Daniel Loeb is known for his humorous and often eviscerating and emasculating letters to Boards of Directors and CEOs. As is to be expected, Loeb fired off a polite (by his standards) letter to the Yahoo! Board of Directors earlier today,
You can read that letter here
.
You can expect that Loeb's letters will become increasingly nasty if Yahoo! doesn't implement the changes that he has suggested.
Loeb argues that with a "more effective and focused management", Yahoo! could be worth more than $20/share.
It will be interesting to see what happens at Yahoo! - at this point, something has to give.
Source:
Third Point LLC 13D Filing for Yahoo!