Will "The Donald" Run in 2012?
One of the biggest questions right now is which potential Republican candidates will end up throwing their hats into the ring for the 2012 Presidential election.
At this point, Mitt Romney seems to be the only shoe-in for a run at the Republican nomination. Names such as Mike Huckabee, Sarah Palin and Newt Gingrich are all maybes at this point.
A name that has emerged as a legitimate candidate for the Republican ticket over the past few weeks has been Donald Trump. Many people laugh at the thought of "The Donald" running against President Obama in 2012, but Trump has firmly established himself as a legitimate possibility for the Republican nomination over the past few weeks.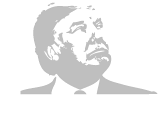 Trump has been his controversial self over the past few weeks, announcing that he has dispatched private investigators to establish the true story behind President Obama's birth certificate and announcing that, if he were president, the United States would "take on" China.
These recent comments have captured the imaginations of many Republican voters, as evidenced by a
recent poll that declared that Trump would capture 21% of the vote
if the New Hampshire primary race was held today (Romney was in first place with 27% of the vote). Many people have dismissed Trump's recent comments on Obama and China as populist schlock, but there is no doubt that Trump has quickly gotten the attention of many right-leaning voters.
The question is - will Trump actually run in 2012, or is this all a ploy to promote his show, "Celebrity Apprentice"?
According to prediction market Intrade.com
, there is currently a 40% chance that Donald Trump will announce that he is running for President in 2012. This is more or less equal with January of this year, when traders on the site gave Trump a 50% chance of running in 2012.
Mitt Romney, on the other hand, is currently listed at 98% to run in 2012.
A recent poll stated that 47% of Americans
have an unfavorable view of Donald Trump, while 43% have a favorable view. There were also rumblings of a possible presidential run for Trump back in 1999 - that year, 58% of Americans held an unfavorable view of Trump.
Will he or won't he? Am I the only one who would like to see a Trump vs Obama Presidential debate? That would be endlessly entertaining..