October Search Engine Market Share: Google Continues to Dominate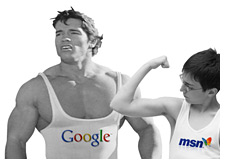 It's Google's world, and we are all just living in it.
Google continues to dominate the search engine market, increasing their market share by 3% from over a year ago. As an RBC analyst remarked, "It's just a matter of time before Google hits 70% market share - the only question is when."
According to
Hitwise
, Google posted a number of 64.49% for total US search market share in October. Yahoo came in second with 21.65%, MSN came in third with 5.78%, and Ask.com brought up the rear, posting a number of 4.76%.
A few things jump out at me about these numbers:
1. Google has an almost insurmountable lead, and their market share keeps growing. Though nothing is forever - IBM used to have a near monopoly on the computer industry back in the day, just as Google has a stranglehold on the search engine market. Though given everything that is going in their favor, it is going to be a LONG time before Google relinquishes the number one spot.
2. Yahoo has BY FAR the worst search index of any of the four major search engines in the US (in my opinion), but continue to have 20%+ market share. Show me a search index from a major search engine company with a lower quality, please. Chances are, you won't.
3. Microsoft saw its market share almost halved from just a year ago. Microsoft used to have 10.7% of the market, and now they only have 5.78%. You would think that Microsoft would be right near the top of the list, considering the amount of market dollars that they have, and considering the fact that they incorporate a search engine box right into their browsers that directs to MSN Search. For them to be at 5.78% is embarrassing.
I would agree with RBC. It's just a matter of time before they have 70% market share. Who's going to catch them?
Filed under:
Internet Companies
|
General Knowledge