Another Friday, Another Bank Failure; FDIC May Borrow Money from U.S. Treasury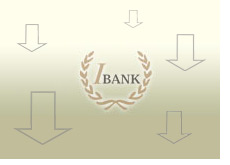 Another Friday, another bank failure in the United States.
This time it was Integrity Bancshares Inc. of Alpharetta, Georgia. This marks the 10th bank failure of the year so far.
This comes just a few days after the FDIC announced that they had raised the number of banks on its "problem bank list" to 117. This is up from 90 in Q1, and the highest total since the beginning of 2003. The "problem bank list" doesn't include banks that have already failed - just banks that are in "danger of failing", based on regular routine audits.
Banks that are on the "problem bank list" are not made public for obvious reasons - if the list was made public, then customers of the listed banks would surely rush to withdraw their funds, undoubtedly dooming the banks.
Many expect that the number of failed banks will increase during the second half of 2008.
--
One of the worst-kept secrets is finally out of the bag - the FDIC may not have enough cash on hand get through the expected wave of bank failures, and it may have to borrow from the Fed in order to replenish its working capital.
The FDIC has $45.2 billion dollars in its warchest to reimburse insured deposits at failed banks. When a bank fails, the FDIC covers the insured deposits and then sells the assets of the failed bank to replenish their funds. The problem is that if there is a rush of failures, then the FDIC may run into some short-term cashflow problems, which is why they might need to borrow from the Fed, depending on how bad things get. The FDIC is apparently considering a plan that would involve raising the premium rates that banks pay into the fund.
The last time that the FDIC had to borrow from the Fed was in the early 1990s, as they were dealing with the S&L crisis.
Filed under:
The Economic Meltdown
|
General Market News