Volkswagen Short-sellers Were Caught In the Mother of All Short Squeezes Earlier This Week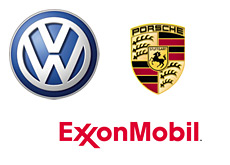 Volkswagen (briefly) became the most valuable company in the world on Tuesday, surging ahead of the likes of Exxon Mobil Corp., General Electric, Microsoft and others.
Volkswagen closed at 210.39 euros last week. On Monday, the stock surged, opening at 370 euros and closing at 511.
On Tuesday, the stock continued to soar, opening at 590 euros and closing the session at 881.00. The stock hit an intraday high of just around 1k euros. This was one of the most incredible (and ridiculous) two-day moves in the history of the stock market, considering Volkswagen's market cap before the move and how much value they tacked on in just a couple of days. It really was unprecedented.
The stock has retreated today, and is currently down around 400 euros. Volkswagen is trading at this moment at 519.00, still up from Friday's close but well off of its highs.
What happened?
This incredible surge started when Porsche announced that they had increased their holdings in VW. The company now had a stake equivalent to 75% of Volkswagen's voting shares - Porsche now owned 42.6% in Volkswagen and had options to buy another 31.5%.
A number of well-known hedge funds, including Glenview Capital and Greenlight Capital, had substantial short positions in Volkswagen, determining that the company was over-valued and that things were "bleak" for the automotive industry. Some funds were long Porsche and short Volkswagen, while other funds were strictly short on Volkswagen.
The announcement by Porsche caught many by surprise. An estimated 13% of shares in Volkswagen had been borrowed, and when stunned short-sellers in Volkswagen went to try and cover their positions, they quickly found out that there was basically zero liquidity in the stock. The stock surged as panicked short-sellers and arbs desperately attempted to cover their short positions in Volkswagen.
The damage inflicted to those on the short side is unknown at this time. Companies such as Goldman Sachs and Morgan Stanley dove in late trading yesterday as word leaked out that they may have taken substantial losses due to the two-day move. Speculation over the losses taken by some of the major hedge funds will likely remain that - just speculation. Some funds have publicly stated that their losses are unrealized, and that they plan on remaining short as they still feel that the company is tremendously overvalued.
The entire situation was ridiculous - the fact that Volkswagen was temporarily worth more than Exxon Mobil is the height of absurdity. I would expect the shares of Volkswagen to continue to tumble over the coming days as steps are taken to increase liquidity in the stock.
Filed under:
General Market News