Stock Surges, Retreats Following Wild Opening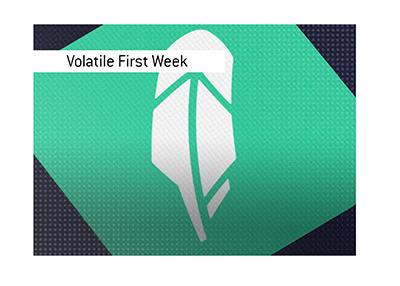 The same people who wanted zero commission trading company Robinhood destroyed were responsible for ramping its shares earlier this week.
If you'll recall, at the height of "meme stock mania" earlier in the year, Robinhood (and other brokers) temporarily disallowed the purchase of stocks like Gamestop and AMC, to name a few. They would only allow existing positions to be sold.
Many know the relationship between Robinhood and Citadel (Citadel buys order flow from Robin Hood), and many people thought that Robinhood had done this at the behest of Citadel, which had invested in Melvin Capital (Melvin Capital nearly went out of business thanks to shorts on "meme stocks").
This resulted in a great deal of fury from the investing public, and many Robinhood account holders vowed never to trade with the company again.
This didn't turn out to be the case.
In fact, Robinhood continued to do very well, and parlayed this success into an initial public offering earlier this month.
-
Robinhood had a very underwhelming IPO, quickly trading lower after the stock opened for the first time.
After a rocky first day of trading, the stock stabilized and started to move higher.
Earlier this week, options trading in Robinhood opened, and that is where things got really crazy.
As we've seen before, a "gamma squeeze" took place, as people immediately started purchasing far OTM calls in Robinhood.
This resulted in market makers needing to buy shares to hedge their short call positions, which resulted in the stock rocketing higher.
Retail traders jumped on board, and suddenly Robinhood was trading like a "meme stock", roaring from $35 to over $70 in just a couple of days.
-
On Thursday, shares of Robinhood tumbled back towards earth, dropping over 27% on the day.
In short, Robinhood has done the full round trip of "meme stock" trading in just a few days - the surge due to a gamma squeeze, followed by the painful pullback.
The question now is - what happens next?
Filed under:
General Market News