Review of Thinkorswim.com


Site:
Thinkorswim.com
Rating:
9.7/10
Overview:
There is much to love about Thinkorswim, which is why they have grown their client base so quickly over the past few years. There are cheaper commission structures out there, but Thinkorswim makes up for it with outstanding customer service and an ultra-sleek trading platform. The company has made it possible for their customers to trade wirelessly, through the web and through a stand-alone software package. It shouldn't be surprising to note that TD Ameritrade recently snapped Thinkorswim up for over $600 million dollars.
Customer Service:
One of the best features of Thinkorswim. The customer service agents at the company are absolutely terrific. Incredible responsive and knowledgeable. There are multiple ways to get ahold of customer service agents during the day - you will not be waiting for long regardless of the method that you choose.
Commissions:
Thinkorswim gives their customers a choice when it comes to commissions for stock transactions. You can pay either $0.015 per share with a $5.00 minimum, or a $9.95 per trade flat commission (maximum of 5,000 shares).
For option trades, Thinkorswim offers three different pricing structures. There is a standard rate (the lesser of $2.95 per contract or $1.50 per contract plus $9.95), a rate for slightly more active traders ($1.25 per contract, $12.95 minimum per leg) and a rate for very active traders ($0.95 per contract, $19.95 minimum per leg).
For commission rates for mutual funds, bonds and T-bills, please check their site.
Software Platform:
Another big plus for Thinkorswim. If you rely on charts then you will absolutely love Thinkorswim. If you want a software package with plenty of bells and whistles, then you will love Thinkorswim.
The company offers thinkDesktop, webBasedTrading, thinkAnywhere and thinkMobile - you are never going to be shut out of the action if you are using thinkorswim. The company has taken a great number of measures to ensure that their overall package is as trader-friendly as possible. The company is run by traders, which means that they listen to their customers and incorporate requests into their product offerings.
Final Words:
Thinkorswim comes highly recommended. You really can't go wrong with the company, whether you are an absolute novice or experienced professional. This is another company that has grown tremendously due to fanatical customer service and listening to their customers. How will the Ameritrade merger impact their business? Hopefully not too much.
Click Here To Open An Account at Thinkorswim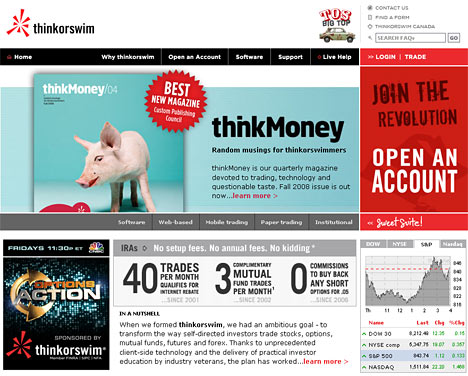 Filed under:
Company Reviews