Will We Plunge Below the November 20th Lows?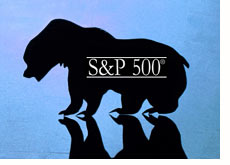 The markets continued to tumble on Tuesday, as the Nasdaq, Dow and S&P 500 all closed down over 3%
After a brief bear market rally, the major North American market indexes are face-to-face with their November lows.
Many people were hopeful that the market had put in a bottom in late November. The major indexes strongly rebounded in December and early January, buoyed by the promise of a new president and the hope of an economic rebound.
On November 20th, the S&P 500 closed at 752.44.
The index surged higher after that day, gaining over 25% over the course of just a month and a half.
Many market forecasters warned people not to be too confident, as there are often strong rallies during the course of a bear market. Don't forget that there were very powerful bear market rallies even during the Great Depression.
Their warnings proved to be omniscient, as we are currently within striking distance of the November lows.
The S&P 500 closed today at 789.17, which is just 37 points away from the November lows.
There was plenty of news today that had an impact on the markets. Barack Obama signed the stimulus package. General Motors announced that it needs another $30 billion dollars of economic aid in order to avoid failure. The SEC charged Stanford Financial in an eight billion dollar fraud. The dollar continued to surge. Moody's announced that it may cut the ratings of several banks with units in eastern Europe.
Overall - not a very good news day.
That being said - are there ever really any "good" news days lately?
The questions now are:
1) Will the November lows hold?
2) If not, how low will the next legdown take us?
3) Given this steady march of bad news, is there any way that we can avoid crashing through the November lows?
4) What could possibly turn these markets around, and when might that happen?
I hate to harp on all of this bad news, but this is what we are currently dealing with. These are not very happy economic times right now.
Filed under:
The Economic Meltdown
|
General Market News