The Recession is Hurting The Sports Industry as Well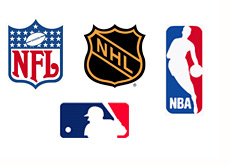 The major North American sports leagues, including the NFL, MLB and NBA, have been awash in cash for years now.
TV deals put more and more money into the coffers of these leagues. Advertisers lined up to buy ad space. Corporate sponsors scrambled to do deals with teams. New stadiums were constructed, ticket prices were raised and new revenue streams were spawned.
That was then, and this is now.
The crippled U.S. economy is starting to have a noticeable effect on some of the biggest North American sports leagues.
Most of the talk at the recent NBA All-Star weekend centered around the plummeting global economy and the negative impact on the NBA going forward.
The NFL, once seen as being nearly recession-proof, has had to scale back. The league recently announced 150 job cuts. Commissioner Roger Goodell announced that he was taking a 20% pay cut. Individual teams, such as the New York Jets (they recently asked employees to take 2 weeks of unpaid leave), have embarked on their own cost-cutting measures.
Major League Baseball, which has seen steadily increasing revenues over the past decade, is starting to suffer as well. With the exception of the New York Yankees, many teams declined to dish out big dollars this offseason, citing the need to watch their spending in the midst of an economic decline. This led to a number of big-name free agents being forced to take less money than they had expected.
Bank of America recently severed their sponsorship talks with the New York Yankees regarding stadium naming rights. A $400 million dollar naming rights deal between the New York Mets and Citigroup is getting hammered by the public, despite both sides proclaiming that the deal can not be reversed.
Many teams are cutting ticket prices for this upcoming season, in anticipation of the fact that many people just won't have the money to attend games at current prices.
North American sports leagues (and leagues all around the world, for that matter) have been beset by a number of new problems, including:
-many major advertisers are aggressively cutting back on ad spends
-many major sponsors are cutting back or pulling away from sports altogether
-fans are stretching their dollars at the expense of leagues
-loans are suddenly much harder to come by
-franchise values will begin to drop, depending on the length of the recession/depression
-TV networks, while locked into multi-year deals, may have to bid less money for TV right if advertisers are still watching their spends
-a number of prominent team owners have seen their net worths decimated in this downturn, which may lead to cutbacks for their teams or an outright sale
The decline in the economy will wreak havoc on leagues with salary caps over the next few years. We already saw a glimpse of this at the recent NBA trade deadline, as many teams passed on acquiring expensive contracts because of fears about luxury taxes and future salary caps.
Independent reports have stated that the NHL salary cap is expected to drop as much as 10% for the 2010-11 season. Many teams are suddenly being frugal with their expenditures, citing a need to watch their dollars in anticipation of any reduction in the salary cap.
The only league that is not suffering in terms of its cap is the NFL, who recently increased their cap number from $123 to $127 million dollars.
The NFL is being fiscally responsible and is trying to be pro-active in a poor environment.
Other leagues, such as the NBA and MLB, are going to have to scale back out of necessity. The NBA recently arranged $200 million dollars in loans for up to 12 teams that requested the money. While commissioner David Stern stated that many of these teams are doing well, it doesn't exactly speak to the overall strength of the league.
If you had to rank the major North American sports leagues from strongest to weakest during these difficult times, it would almost certainly look like this:
1. NFL
2. MLB
3. NBA
4. NHL
All four of these leagues are feeling the pinch of the recession however. The true effects of the recession will make itself felt next year, when companies sit down to figure out their sponsorship/advertising spends and fans sit down to figure out whether or not they can afford tickets. The bottom really fell out of the economy in Q4 2008, and this should have a profound impact on the 2009/2010 seasons, especially for the NBA and NHL.
Filed under:
The Economic Meltdown