Dow, Rohm & Haas Acquisition Update
Deal:
Dow (DOW) To Acquire Rohm & Haas (ROH) for $78 per share, plus 99 cent per share "ticking" fee
Purpose of Deal:
Dow sought to broaden "its product offerings in high-margin markets such as paints, coatings and electronic materials".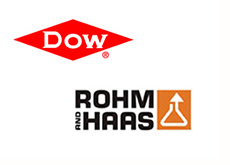 Background:
Many people assumed that Dow would be making a play for Rohm & Haas, however they never could have envisioned the premium that Dow would be willing to pay for ROH. ROH was trading at $45 the day before the merger news hit the market - DOW agreed to pay an unbelievable 74% premium for the highly sought-after ROH. The original deal was supposed to be financed by Berkshire Hathaway and the Kuwait Investment Authority, but things took an unexpected turn soon after the merger was announced.
Initial Deal Announced:
July 10th, 2008
Proposed Terms of Deal:
The original deal called for $78 per share for ROH, plus the assumption of over three billion dollars in Rohm and Haas' outstanding debt.
The revised deal will still pay ROH shareholders $78 per share, plus a ticking fee of 99 cents per share, but the Haas Family Trust and Paulson & Co. will purchase up to $3 billion dollars in preferred DOW shares in order to provide a capital infusion.
Deal News:
After agreeing to a deal in July of 2008, the proposed merger between DOW and ROH nearly fell apart due to several contributing factors.
First, a proposed $17.4 billion dollar joint venture between the Kuwaiti government and Dow Chemical fell apart, throwing the merger between ROH and DOW into disarray. Dow Chemical was planning on using part of the money from the joint venture to finance its deal with Rohm & Haas, so the disintegration of the lucrative deal with the Kuwaiti government threw a wrench into the plans for the merger.
After the deal with the Kuwaiti government collapsed, both Moody's and Standard & Poor's lowered their ratings on Dow's debt, claiming that the lack of a deal with the Kuwaiti government would greatly increase Dow's debt load.
Dow then stated that it could not complete the proposed buyout of ROH due to "global economic conditions" and the disintegration of the Kuwaiti joint venture deal, which led Rohm and Haas to file a lawsuit, in an attempt to force DOW to close on the deal.
Eventually the two sides came to an agreement, and the deal will now close by April 1st, 2009. The lawsuit was also settled as well.
Deal Status:
The deal has now been agreed to by both companies, and the merger is going forward. Rohm & Haas shareholders have already approved the deal, so no new vote is needed (because there was, in the end, no reduction in the price paid per share).
Last Updated:
March 11th, 2009
Filed under:
General Market News