Review of Zecco
Click Here To Open An Account at Zecco
Zecco burst onto the scene in October of 2006, and since that date has added over a 100,000 new clients.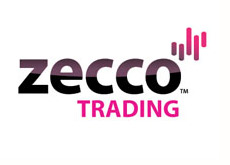 The company is based out of California - its headquarters are located in the San Francisco area, while its operations and call center are located in Pasadena. Zecco currently has over 120 employees.
The company offers a very competitive commission structure.
As a matter of fact, they offer
10 free trades per month
if:
a) You have a balance with them of more than $25,000
b) You execute 25 trades or more each month
If you have a balance of less than $25,000 and don't execute more than 25 trades per month, then you will pay $4.50 per trade.
Options trades will cost you $4.50 per trade, plus an additional 50 cents per contract (with no minimum).
Another couple of positives for Zecco (especially for traders with smaller portfolios):
a) No inactivity fees
b) No account minimums (though margin accounts require a minimum of $2,000)
Zecco is a member in good standing of the FINRA, and its clearing firm is Penson Financial Services, which is a member of the SIPC. This means that accounts at Zecco are protected up to $500,000.
The company is a fully licensed brokerage, and is covered by Lloyds of London insurance.
The company has been featured and profiled in a number of different publications, including:
Fox Business
USA Today
Kiplinger.com
The Washington Post
Forbes
The Wall Street Journal
Another interesting point about Zecco is that they also operate ZeccoShare, which is a fully functioning free trading community.
ZeccoShare offers blogs, member profiles and a large forum. This allows users of Zecco to share trading ideas and air their grievances about the markets.
If you are an infrequent trader or investor who is looking to keep their costs down, then Zecco is likely a good choice for you.
Click Here to Open an Account at Zecco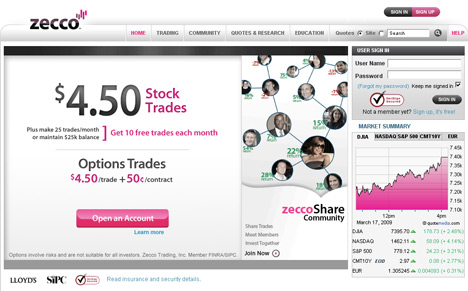 Filed under:
Company Reviews