National Average APR Up to 12.35%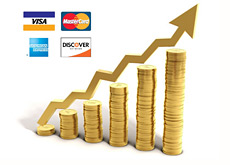 It's not your imagination, and it's not just you.
Credit card interest rates are, for the most part, trending higher across the board.
This comes despite the fact that interest rates in general are at all-time lows.
Creditcards.com (link below) released their weekly credit card rate report earlier today.
This report clearly indicates that the trend in credit card interest rates is higher, and there is no indication that this will change anytime soon.
The site breaks down average credit card interest rates over a number of different groups - instant approval, bad credit, student, reward cards, etc.
The national average APR for the entire credit card industry is 12.35% - this is up from 12% last week, and up from 11.38% six months ago.
Of the eight different groups that Creditcards.com analyzed, only two have seen their average interest rate drop over the past six months. Student credit cards have seen their average APR drop from a lofty 15.49% six months ago to 14.21% today, while instant approval cards have seen a modest 0.09% drop in rates.
The group that has seen the biggest increase in interest rates has been the Cash Back group. This group has seen interest rates soar from 11.65% six months ago to a current average rate of 13.9%.
So what gives? Why are credit card companies increasing their average APRs, even though interest rates in general are at all-time lows?
The answer: spiraling delinquencies and a spike in uncollectible debt.
At least, these are the reasons that credit card companies have given for the recent spike in rates.
We've talked about this a few times over the past month or so.
Even customers who pay their bills on time every month and have sparkling credit histories are seeing their rates increase dramatically.
If you think that it is ironic that companies who have received government assistance are now jacking up rates on even their most loyal customers (thus making it harder for them to repay their debts), you are not alone.
It is hard to imagine that credit card interest rates will drop anytime soon, considering that unemployment rates are still on the rise.
Many families are turning to credit cards to make ends meet in this challenging economic environment, which in turn leads to higher delinquency numbers.
Until the economy begins to meaningfully turn the corner, credit card interest rates will likely continue to trend higher.
Source: CreditCards.com -
Weekly Credit Card Rate Report
Filed under:
General Market News