Which Major Metropolitan Areas Posted the Lowest Jobless Rates in May 2009?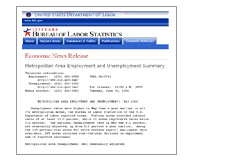 The BLS (Bureau of Labor Statistics) recently released a report titled "Metropolitan Area Employment and Unemployment: May 2009". I have provided a link to the release below.
The data contained in the report is hardly surprising. However, there are some interesting nuggets of information that I thought that I would pass along in this article.
First off, it should come as no surprise that the unemployment rate in all 372 metropolitan areas of the United States rose compared to this time last year. Not a surprise, considering that the national unemployment rate in May was 9.1% compared to 5.2% in May of 2008.
112 of these metropolitan areas posted an unemployment rate of over 10.0% in May of 2009. This is up from just six in May of 2008.
El Centro, California led the way with a staggering unemployment rate of 26.8%.
The lowest jobless rate belonged to Bismarck, North Dakota - 3.5%.
This article will be focusing on the 49 metropolitan areas that have a population of at least a million people.
Which cities are suffering the most? Which cities have the lowest unemployment rates?
If you had to guess the major city with the highest unemployment rate, who would you guess?
If you said Detroit, then you would be right.
Detroit-Warren-Livonia posted an unemployment rate of 14.9% in May of 2009. This is hardly surprising given the savage beating that the auto industry has taken over the past couple of years.
Riverside-San Bernardino-Ontario, California was second with an unemployment rate of 13.0%, while Charlotte-Gastonia-Concord, North Carolina and Providence-Fall River-Warwick, Rhode Island tied for third with a jobless rate of 12.0%.
The release goes on to point out that ten other areas with at least a million inhabitants posted an unemployment rate of over 10%.
Which cities would you guess are doing the best in terms of their jobless rates?
The answer?
Oklahoma City, Oklahoma (5.7%) and San Antonio, Texas (5.8%).
Thinking of moving over the next little while? I would pay close attention to the unemployment rates in the area that you are thinking of moving to, even if you have already landed a job. States with high unemployment rates are very likely facing large deficits that will have to be closed (through tax increases and spending cuts). Also, high jobless rates lead to increased crime, lower real estate values, etc. It's an important number to consider.
Source: BLS.gov -
Metropolitan Area Employment and Unemployment Summary
Filed under:
General Knowledge