Europe Reportedly Has $32.7 Trillion Dollars in Assets Under Management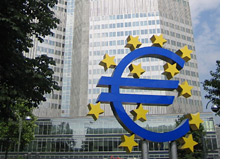 According to a recently conducted survey by the Boston Consulting Group, Europe has now surpassed North America as the world's richest continent.
In 2008, Europe reportedly had a total of $32.7 trillion dollars under management, while North America had $29.3 trillion.
Europe was able to claim the #1 spot due to North America experiencing the largest drop of assets under management of any other continent in the world. According to
this Forbes.com article
, North America's "total wealth as measured by assets under management" dropped a staggering 21.8% last year, which was far more than any other continent on the planet.
North America's precipitous decline was largely due to the fact that it held a great deal of its wealth invested in equities. North America had (and still has) a great deal of its total wealth invested in the equity markets, and those markets took a swan dive in 2008. Europe was able to suffer less damage in the worldwide equities rout of 2008, and therefore was able to claim the title of the world's richest continent.
The article goes on to say that the number of millionaires across the planet dropped to 9 million from 11 million last year, and that North America and Europe suffered the steepest drops.
Despite the fact that Europe is a wealthier continent now, North America still has the most millionaire households (4 million in the United States alone).
Barring a continued run-up in the equities markets over the last 3 1/2 months of the year, I would expect that Europe will claim the title for the second year in the row once the 2009 numbers are tabulated.
Filed under:
General Knowledge