Thousands of People Apply for 90 $13/Hour Factory Jobs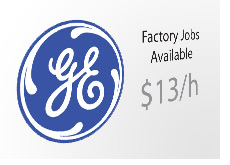 With the national unemployment rate ticking closer towards the 10% mark, jobs are obviously much harder to come by.
According to recently released reports, there are supposedly over 2 million full-time jobs that are currently unfilled in the United States.
However, for many people, especially those with little to no education, jobs (well-paying ones or otherwise) are particularly hard to come by right now.
Millions upon millions of people have lost their jobs since the start of the "Great Recession", and there is really no relief in sight.
The unemployment numbers continue to march higher as hundreds of thousands of jobs continue to be lost every month.
The manufacturing and construction sectors have been particularly hard-hit in the United States, so when there is a job opening in these fields, thousands usually apply, hoping to strike gold.
A recent job opening in Louisville received a crush of interest from unemployed workers.
General Electric announced that they were hiring 90 people to build washing machines.
The pay? $13/hour, which works out to around $27,000 per year.
Four years ago, this exact same job paid $19 per hour, but unions agreed to wage cuts in order to keep people in their jobs.
Despite the low wages, these jobs provide benefits that have people applying from all over. Benefits that include medical, dental and tuition assistance.
It's not a surprise that a job that provides security and benefits in this economy would receive thousands of applicants.
Instead, the situation is just a prime example of how bad things really are right now. Some people tend to lose sight of just how many people are in a very dire situation right now.
The things that really struck me after reading the article were:
-the fact that 10,000 people applied in just three days
-the same job paid $19 per hour just a few years ago
-the diverse mix of recently unemployed people who are vying for this job
People from all walks of life are applying for this job - not just recently laid-off factory workers.
You have recently graduated college students applying. You have recently laid-off financial sector workers applying. You have stay-at-home moms applying that are forced to work because of their families' rapidly deteriorating financial situation. The list goes on and on.
I guess the big question is - what happens to the 9,910 people that don't get hired for this job at GE?
Until the United States figures out how to put millions of people back to work, the economy will have a very hard time putting in any sort of a meaningful recovery.
Source: The Courier-Journal -
10,000 apply for 90 factory jobs
Filed under:
The Economic Meltdown