Hercule Poirot on DVD and Blu-Ray Reviews
Hercule Poirot, in case you didn't know, is the fictional Belgian (not French) detective made famous by Agatha Christie.
Hercule Poirot is, without a doubt, the most famous of the characters created by Christie. So famous, in fact, that Poirot is the only fictional character to ever be given an obituary in the New York Times. He is loved by millions of people throughout the world.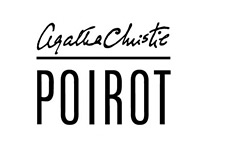 I was turned on to the Hercule Poirot DVDs about a year ago. I fell asleep when watching my first DVD (because I was tired, not because I was bored). A few weeks later, I tried again, and have been hooked ever since. I have watched all of the 45 minute and full-length features, minus a few. If you are into Poirot as I am, then you know how easy it is to get hooked on the series.
What do I like about the DVDs and the show in general?
1. David Suchet as Hercule Poirot.
Seriously - how good is Suchet? He completely owns the series, and his performances as Hercule Poirot have to be the most astonishing in the history of modern television. He is so good as Poirot that it is almost indescribable. I really hope that nobody tries to remake the Poirot series in the years ahead, as there is just no chance that anybody will capture the essence of Poirot as Suchet has.
2. The setting.
It's pretty easy to forget about your rough day when you pop your favorite Poirot DVD into your DVD player. You are immediately whisked away to London, circa 1930s. It's pretty easy to get lost in the series when you start watching. The cars. The clothes. The series does a tremendous job in recreating London in the 1930s.
3. The cast of supporting characters.
Arthur Hastings. Chief Inspector Japp. Miss Lemon. It's hard not to love all three of these characters. Sometimes people forget just how funny this series can be sometimes - it's not all about mystery. All three characters have personality traits and quirks that are just hilarious. These three characters are much more evident in the shorter 45 minute TV episodes, so keep that in mind when you are looking to purchase your DVDs.
4. The stories.
You just can't forget about all of the great stories that make up the Poirot stories and novels - I mean, they were written by Agatha Christie. Some of my favorites - Death on the Nile, The ABC Murders and Evil Under the Sun.
--
If you are someone who is just getting into Poirot yourself, or are looking to purchase a DVD or two for a Poirot-loving friend or member of your family, then here are my recommendations:
Agatha Christie's Poirot: The Definitive Collection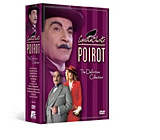 Includes 12 full-length Poirot movies, including Evil Under the Sun, Death on the Nile and Cards on the Table.
This DVD collection includes some of the more recent movies that have been released in the series, as well as some of the most famous Poirot stories (Death on the Nile).
This is a great DVD to buy if you are just starting out on the series, as the movies are of a very high quality. It's clear that the producers of the show sunk more money into these movies than some of the previous ones.
Suchet has also clearly hit his stride in these movies, and you will get a chance to watch a master at work.
I'd recommend starting with this set.
--
Agatha Christie's Poirot - The Classic Collection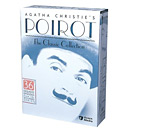 This DVD set includes all of the short episodes (a total of 36) from the series. Classics including the likes of "The Affair at the Victory Ball", "The Veiled Lady" and "The Chocolate Box".
You will also be able to see the very first time that Suchet appeared as Poirot in "The Adventure of the Clapham Cook." It's quite something to see how both Suchet and the series in general progressed from 1989 (when the first episode was shot) until present day.
I love the short episodes for a number of reasons:
1. Miss Lemon, Inspector Japp and Hastings appear in almost every episode.
2. They don't require as much of a time commitment if you are pressed for time (for instance, it is great to watch a short episode before drifting off to bed).
3. Watching Suchet in his early days as Poirot is quite interesting.
--
Agatha Christie's Poirot - The Classic Collection, Volume 2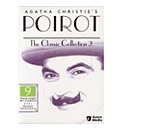 10 more full-length Poirot movies (you can't really go wrong with 1,000 minutes of Hercule Poirot).
This set includes the following movies:
"The Mysterious Affair at Styles" (this was the first time that Poirot appeared in an Agatha Christie novel)
"The ABC Murders" (one of my favorite Poirot novels/movies)
"One, Two, Buckle My Shoe" (another one of my favorites - I think that I have seen this movie about 5-6 times)
--
Agatha Christie's Poirot: The Movie Collection - Set 4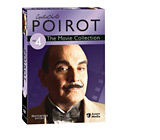 Contains the two most recent Poirot full-length movies (as of the time that this article was written anyways) - "Mrs. McGinty's Dead" and "Cat Among the Pigeons".
The production values are incredibly high in these two movies, and Suchet is in top form.
These two movies also feature the character "Ariadne Oliver", who serves the main purpose of giving Christie an opportunity to poke fun at herself.
One thing to note - some of the deaths in these two movies are quite violent (not everyone dies from poisoning in an Agatha Christie story).
I would recommend buying this mini-set just for the high production values alone.
--
Any of these DVD sets would make a great present for somebody that is new to the world of Hercule Poirot and Agatha Christie.
Poirot Complete Collection Box Set
Filed under:
Company Reviews