Bank of America Will Reportedly Repay The Government, In Full, Next Week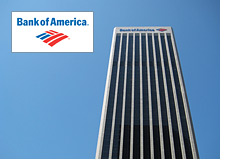 According to CNBC's Charlie Gasparino, Bank of America will be repaying $45 billion dollars to the government and officially exiting the TARP program.
If this news is true, then Bank of America (BAC) would join Goldman Sachs and JP Morgan as companies that have fully repaid their TARP funds.
Gasparino claimed that Bank of America will be raising capital to pay off the $45 billion dollars that is currently owed. According to Gasparino's report, Bank of America will sell nearly $19 billion dollars worth of preferred stock next week, with the rest of the $45 billion dollar payment coming from their cash reserves.
Current Bank of America CEO Ken Lewis, who is slated to retire at the end of this month, was said to have wanted his company to pay back the government, in full, as one of his last acts as leader of the company.
According to
this CNBC transcript
from earlier today, Gasparino claims that it was "Greg Curl's team who did this", and that this gives Curl the inside track for the CEO position (Curl currently serves as the Chief Risk Officer and Global Corporate Strategic Development and Planning Executive for the company).
If you'll remember, Bank of America was one of the companies that was front and center during the financial meltdown of 2008.
Bank of America was seen as a buyer for a number of companies that were on the ropes at the time - they ultimately ended up purchasing Merrill Lynch, despite the fact that Ken Lewis was giving considerable thought to walking away from the deal, due to Merrill Lynch's quickly deteriorating financial position.
According to New York Attorney General Andrew Cuomo, Ben Bernanke and Henry Paulson threatened to fire Lewis if he didn't follow through with the deal. Bank of America eventually followed through and completed the deal, but not without a great deal of controversy, as billions of dollars in bonus money was ultimately paid out to Merrill Lynch employees shortly after the deal went through. Source:
Cuomo - Bernanke and Paulson Threatened Lewis if He Didn't Complete Merrill Lynch Deal
The repayment of the TARP funds will allow Bank of America to free themselves from some of the government-imposed restrictions on the company, including limits on executive compensation. As we've seen recently at companies such as Goldman Sachs and JP Morgan, companies that have fully repaid their TARP funds are free to pay their executives and employees as much as they please.
This announcement will also make it easier for Bank of America to hire a CEO that is not currently with their company, if they decide to go that route.
Bank of America (BAC) was up about 2% in afterhours trading as a result of this news.
Source:
Bank of America Out of TARP, Says Gasparino
Photo:
ricardodiaz11
Filed under:
General Market News