Where To Go To Buy a Kindle?
No matter where you live in the world, you need to visit this page to purchase your Amazon Kindle:
Click Here To Buy Your Kindle
(
Amazon.com
)
Amazon isn't selling Kindles through country-specific versions of their site as of yet (Amazon.ca, etc.). I am not sure if this is planned for the future, but as of now, you need to purchase it through
Amazon.com
.
If you live in one of these countries, then you are currently able to purchase a Kindle through Amazon.com: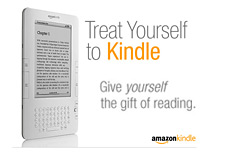 Aland Islands, Albania, American Samoa, Andorra, Angola, Anguilla, Antigua and Barbuda, Armenia, Aruba, Australia, Austria, Bahamas, Belarus, Belgium, Belize, Benin, Bermuda, Bhutan, Bolivia, Bosnia and Herzegovina, Botswana, Brazil, Bulgaria, Burundi, Cambodia, Canada, Cape Verde, Cayman Islands, Central African Republic, Columbia, Congo, Cook Islands, Costa Rica, Cote D'Ivoire, Croatia, Cyprus, Democratic Republic of the Congo, Denmark, Dominica, Dominican Republic, Ecuador, El Salvador, Equatorial Guinea, Estonia, Ethiopia, Falkland Islands, Faroe Islands, Federated States of Micronesia, Fiji, Finland, France, French Guiana, French Polynesia, Gabon, Georgia, Germany, Ghana, Gibraltar, Greece, Greenland, Grenada, Guadeloupe, Guam, Guatemala, Guernsey, Guinea-Bissau, Guyana, Haiti, Holy See, Honduras, Hong Kong, Hungary, Iceland, India, Ireland, Italy, Jamaica, Japan, Jersey, Kenya, Kiribati, Lao People's Democratic Republic, Latvia, Lesotho, Liberia, Liechtenstein, Lithuania, Luxembourg, Macao, Macedonia, Madagascar, Malawi, Malta, Marshall Islands, Martinique, Mauritius, Mayotte, Mexico, Moldova, Monaco, Mongolia, Montenegro, Montserrat, Mozambique, Myanmar, Namibia, Nauru, Nepal, Netherlands, Netherlands Antilles, New Caledonia, Nicaragua, Niue, Norfolk Island, Northern Mariana Islands, Norway, Palau, Panama, Papua New Guinea, Paraguay, Peru, Philippines, Poland, Portugal, Puerto Rico, Reunion, Romania, Russia, Rwanda, Saint Kitts and Nevis, Saint Lucia, Saint Vincent and the Grenadines, Samoa, San Marino, Sao Tome and Principe, Serbia, Seychelles, Slovakia, Slovenia, Solomon Islands, South Africa, Spain, Sri Lanka, Suriname, Swaziland, Sweden, Switzerland, Taiwan, Tanzania, Timor-Leste, Togo, Tonga, Trinidad and Tobago, Turks and Caicos Islands, Tuvalu, Uganda, Ukraine, United Kingdom, Uruguay, Vanuatu, Venezuela, Vietnam, British Virgin Islands, US Virgin Islands, Wallis and Futuna, Zambia, Zimbabwe
Note: wireless is not available for the Kindle in all of the countries that are listed here. Check with Amazon.com for wireless availability
Note #2: even if wireless is not available in your country, you can still use the Kindle. You simply plug in the Kindle into your computer and download books directly.
Amazon offers a one-year warranty with their Kindles, but there is also an option to purchase an extended warranty.
I'd recommend purchasing your Kindle new, because then you will have the entirety of a one-year warranty.
The purchasing of your Kindle is a fairly simple procedure. Amazon does a great job at walking you through the process (especially when it comes to importing your Kindle and paying any duties/fees).
I know that when I purchased my Kindle, the entire process was remarkably simple. From clicking the "Purchase" button to having the Kindle in my hands took just a couple of days. There is a reason why Amazon is a $57 billion dollar company - they are extremely good at what they do, and they make the process of buying online as simple and painless as possible.
I have had nothing but positive experiences with my Kindle so far, and I'd recommend that you pick one up.
Click Here to Purchase Your Kindle
Filed under:
General Knowledge