$1.35 Trillion Dollar Deficit Expected in 2010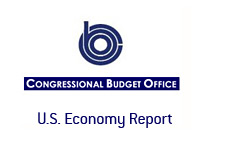 The CBO (Congressional Budget Office) released a 179 page report on Tuesday that was filled with sobering information regarding the US economy.
In case you don't know what the Congressional Budget Office does, they are a non-partisan government agency that provides economic data to Congress.
The CBO made a number of predictions in their report that will likely make many people cringe. Here is a sampling of what the CBO predicted for the US economy going forward:
1. The CBO estimates that the US federal budget will show a deficit of $1.35 trillion dollars for the 2010 fiscal year, assuming that "current laws and policies remained unchanged."
This is a small improvement from the $1.4 trillion dollar deficit that was posted for the 2009 fiscal year. However, this is still a staggeringly high number that will cause the national public debt load of the United States to continue to swell at an alarming rate.
2. Deficits are expected to average about $600 billion dollars from 2011 to 2020.
3. The CBO estimates that the government's annual spend on net interest will cost about $723 billion dollars by 2020.
4. The baseline projection for the 2011 budget is a deficit of $980 billion dollars.
5. The CBO estimates that the national unemployment rate will average 10.1% in 2010 and 9.5% in 2011. Note: the current national unemployment rate, as of December 2009, is 10.0%.
As mentioned, the CBO doesn't expect the unemployment rate to drop below 9% until 2012. From 2012-2014, the CBO estimates that the national unemployment rate will average 6.5%.
--
As mentioned, the national unemployment rate currently sits at 10.0%.
I'm sure that many people were hoping that the "end" of the recession would mean that the unemployment rate would start to trend lower in a meaningful fashion - not so, according to the CBO.
Two more years of an unemployment rate in excess of 9% will put an incredible strain on the finances of the federal government, as well as state and municipal governments.
The next few years will be a very trying time for the US economy, according to this report from the Congressional Budget Office..
Source: CBO -
Budget Outlook 2010
Filed under:
The Economic Meltdown