White House Forecasting a $1.6 Trillion Dollar Deficit for 2010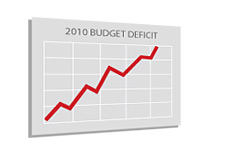 According to published reports, the Obama Administration will release their budget proposal on Monday.
The White House, according to reports, is apparently going to be forecasting a $1.6 TRILLION dollar deficit for the fiscal year ending September 30th.
If true, then this would mean that the White House is forecasting a deficit that would be approximately $250 billion dollars larger than what the CBO (Congressional Budget Office) was predicting. Source:
$1.35 Trillion Dollar Deficit Expected in 2010
This would also mean that the deficit would end up being about $200 billion dollars more than the $1.4 trillion dollar deficit that was posted in 2009.
The national unemployment rate has risen higher than what the White House was originally expecting, which has resulted in depressed revenues for the government, which has, in turn, led to a larger deficit than previously anticipated.
With the national unemployment rate
not expected to drop below 9% until 2012
, you can safely assume that there will be another eye-poppingly large deficit posted in 2011.
The CBO is currently expecting a deficit of $980 billion dollars in 2011. The White House, on the other hand, is expecting a deficit of approximately $1.3 trillion dollars.
By 2013, the White House is forecasting that the United States will post a budget deficit of $700 billion dollars, while the CBO is forecasting a deficit of around $539 billion.
From 2014 to 2020, both the Office of Management and Budget (OMB) and Congressional Budget Office (CBO) expect that the federal budget deficit will trend higher, with the OMB predicting a blowout deficit of $1.6 trillion dollars in 2020.
By the time that 2020 rolls around, the United States should have a total national debt load of around $20 trillion dollars, based on current projections.
Ugly.
Source: Reuters.com -
White House to Paint Grim Fiscal Picture
Filed under:
The Economic Meltdown