Unemployment Rate Falls But Long-Term Unemployed Trends Higher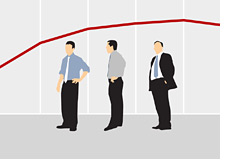 The national unemployment rate dipped to 9.7% in January after 20,000 nonfarm payroll jobs were lost, according to a Bureau of Labor Statistics report that was released earlier today.
This is the lowest that the unemployment rate has been since August of 2009, but still significantly higher than the 7.6% rate that was posted in January of 2009.
The U-6 unemployment rate, which is a broader measure of labor underutilization in the United States, fell to 16.5%, down from 17.3% the month before.
Many market observers and analysts felt as though the unemployment rate would either stay at 10% or rise slightly to 10.1% in January. I believe that Goldman Sachs, for instance, was looking for a payroll change estimate of -25k with a 10.1% unemployment rate.
Here is a quick breakdown of the numbers:
-unemployment rate fell from 10.0% to 9.7%
-nonfarm payroll employment dropped by 20k
-number of unemployment persons decreased to 14.8 million
-10.0% adult male unemployment rate, 7.9% adult female unemployment rate
-number of persons unemployed due to job loss in December decreased by 378k to 9.3 million
-number of long-term unemployed increased to 6.3 million
-civilian labor force participation rate was little changed at 64.7%
-2.5 million marginally attached people in January, of which 1.1 million were "discouraged workers" (those who are no longer looking for work because they believe that there are no jobs available for them. Note: these people are not included in the "official" unemployment rate)
-construction employment, transportation and warehousing employment all fell in January
-manufacturing was little changed
-temporary help and retail trade sectors both gained jobs in January
-health care and the federal government also added jobs
-women made up 49.9% of total nonfarm payroll employment in January
-hourly earnings for people on private nonfarm payrolls rose 0.2% to $22.45
-November nonfarm payroll number was revised from +4,000 to +64,000, while December was revised from -85,000 to -150,000
--
It should be interesting to see where the national unemployment goes from here in 2010. The CBO (Congressional Budget Office), for instance, believes that the unemployment rate will average 10.1% in 2010, and 9.5% in 2011.
Source:
BLS.gov - The Employment Situation -- January 2010
Historical Unemployment Rates
Art:
Parka
Filed under:
General Knowledge