Treasury Secretary Claims That a Debt Rating Downgrade "Will Never Happen to This Country"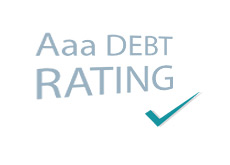 In an ABC News interview earlier today, Treasury Secretary Timothy Geithner claimed that the United States will "never" lose its pristine Aaa credit rating.
When asked if the possibility of a rating downgrade was a concern, Geithner responded:
"That will never happen to this country."
This comes just two months after
Moody's Investors Service said
that the United States "may test the Aaa boundaries" because of their worsening public finances.
Is Timothy Geithner delusional, or will the United States, in fact, maintain their perfect credit rating in the years ahead?
This interview came just about a week after the White House announced that the country would post a deficit of $1.6 trillion dollars for the current fiscal year.
This deficit will continue to strain the borrowing power of the United States. Congress is expected to pass a bill over the coming weeks that would increase the country's debt limit to $14.3 trillion dollars, up from the current level of $12.4 trillion dollars.
As of this second, the United States currently owes $12,346,427,470,024.01.
As a matter of fact, the OMB (Office of Management and Budget) is predicting a string of deficits as far as the eye can see. Barring a miracle taking place, the United States is expected to post massive deficits every year between now and 2020 (at least).
According to the White House, the smallest projected deficit over the next 10 years will come in 2013, when the United States is expected to finish the year $700 billion dollars in the red.
By 2020, the deficit is expected to clock in at a massive $1.6 trillion dollars.
All of these deficits, of course, will just continue to add to the national debt of the country. This is what worries credit rating agencies such as Moody's and Standard & Poor's, and this is why they have been making public statements regarding the credit rating of the United States as of late.
Geithner maintains that the US "plans to rein in the deficit once the labor market recovers", and that the deficit will shrink over the next four years.
Of course, the deficit is only expected to "shrink" to $700 billion dollars in 2013 before trending higher once again.
I'm not sure if firms like Moody's and Standard & Poor's will ever actually downgrade the debt rating of the United States, but it certainly seems like they will have the ammo to do so. Despite the "Great Recession" technically coming to an end, the United States is still in a great deal of pain, and the country's finances are worsening by the day.
I expect the credit rating companies to become more and more vocal over the coming months and years, but will they ever actually pull the trigger on the United States?
Source: Bloomberg.com -
Geithner Says U.S. Will Never Lose Its Aaa Debt Rating
Filed under:
General Market News