Too Many Job Openings by 2018 According to New Study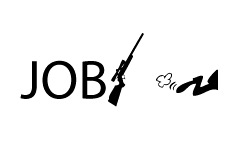 Given the current state of the US economy (and national unemployment rate of nearly 10%), it's almost ludicrous to entertain the possibility that there will be TOO MANY job openings by the year 2018.
I mean, almost every available job opening these days is greeted by dozens, even hundreds, of applications. After all, there are currently five times as many people looking for work as there are total number of job openings in the United States.
However, according to a recent study conducted by Barry Bluestone and Mark Melnik of Northeastern University (and sponsored by Civic Ventures and the MetLife Foundation), there will be an avalanche of job openings in less than a decade due to the aging population of the United States.
Baby boomers are currently in their 60s and are looking to retire soon, despite the recent downturn in the economy. While there are certainly a large number of boomers who have had to delay their retirement plans due to their declining net worths, the majority will still be looking to retire over the next decade or so.
The baby boomers are a big percentage of our society, and the study asserts that there won't be enough people to fill all of their vacated jobs.
The study goes on to say that a "shifting age distribution to older Americans" will result in "substantially reduced labor force participation". As a result, jobs will continue to go unfilled as there won't be enough younger people (25 to 54) to take over the positions left vacant by older folks (55+).
Exacerbating this situation will be the expected recovery in the US economy, which will naturally result in labor shortages.
The study estimates that there could be as many as 14.6 million new nonfarm payroll jobs created between 2008 and 2018, but only 9.1 million additional workers to fill all of the new positions. This assumes that the population grows as projected and that labor force participation rates remain roughly the same.
Industries such as health care, social assistance and educational services will be particularly hard-pressed to fill all available positions, according to the study.
The study concludes by saying that employers may be forced to "enhance their jobs to attract older workers to fill them", and that this will be necessary in order to "assure continued economic growth and to provide the critical social and government services on which we all depend."
--
The bottom line - younger generations need to take advantage of this downturn in the labor markets to upgrade their skills, as it sounds like there could be a dramatic uptick in the number of job openings in the US over the next decade or so.
Source: WSJ.com -
Will Retiring Boomers Lead to Too Many Open Jobs by 2018?
Filed under:
The Economic Meltdown