Participation In Food Stamps Program Continues to Soar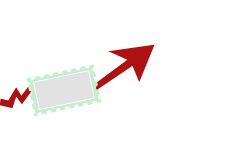 According to the Food and Nutrition Service (United States Department of Agriculture), a total of 39,430,724 people received SNAP/Food Stamps in January of 2010. This works out to about 12.5% of the ENTIRE POPULATION of the United States, or approximately one out of every eight people.
According to FRAC (The Food Research and Action Center), 22 million more people participated in the SNAP/Food Stamps program in January of 2010 than in July of 2000. Food stamp use bottomed out in mid-2000, thanks to a strong economy and reduced unemployment. Since then, the trend has steadily been higher as the country has battled through multiple recessions.
Compared to January of 2009, every single state reported an increase in food stamp use. Four states (Nevada, Idaho, Rhode Island and Wyoming) reported increases of at least 40%. Missouri actually reported a decrease in food stamp use, but FRAC points out that this was likely due to a correction in their data collecting process.
January 2010 saw an increase of 452,214 participants in the program compared to the month before, and an increase of over 7.2 million people compared to January of 2009.
The 39,430,724 people who participated in the SNAP/Food Stamp program is, as you can probably guess, an all-time high.
Two states (Utah, 7.8% and Alaska, 5.2%) reported an increase of at least 5% in food stamp use from December 2009 to January 2010.
From January 2005 to January 2010, three states have seen the number of participants in the supplemental nutrition assistance program (SNAP) grow at least 100%. They are:
Nevada (+112.3%)
Massachusetts (+106.2%)
Wisconsin (+104.3%)
--
Which states have the highest % of their residents participating in the supplemental nutrition assistance program?
1. Mississippi - 19.3% of population
2. Tennessee - 19.2% of population
3. West Virginia - 18.8% of population
4. Oregon - 18.3% of population
5. Louisiana - 18.1% of population
With the national unemployment rate expected to remain above 9% through 2011, you can safely assume that participation in SNAP will remain at or near all-time highs for the foreseeable future.
Source: FRAC.org -
SNAP/Food Stamps Participation in January 2010 Hits New Record: 39.4 Million Persons
Filed under:
The Economic Meltdown