Will the European Union Fall Apart?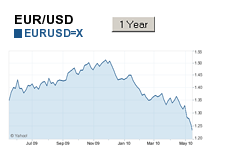 On November 25th, 2009, the Euro traded at 1.514 against the US Dollar.
Less than six months later and the Euro is in complete free fall mode, as the currency is now trading at $1.2301 against the USD and is declining by the day. This is the lowest level that the Euro has traded at since the height of the global economic crisis of 2008.
Not only is the Euro under siege, but the very future of the European Union is being called into question.
Just how low could the Euro go?
According to Royal Bank of Scotland Group Plc
, "the Euro can easily head through parity" (against the USD) in a "hard landing" recovery scenario.
This would represent a STUNNING turnaround for a currency that composed over 28% of all official foreign exchange reserves at the end of 2009, up from 17.9% in 1999. The Euro's rise as a reserve currency has come directly at the expense of the US Dollar, but you have to figure that this trend will begin to reverse itself given recent events.
Can the European Union survive the most severe test of its history, or is it bound to disintegrate as more and more people are now predicting?
French President Nicolas Sarkozy, according to published reports, threatened to remove his country from the European Union unless Germany agreed to participate in a 750 billion Euro bailout package.
German Chancellor Angela Merkel reportedly backed down and agreed to commit to the plan, which has only served to infuriate many in her native country.
These recent events, if true, serve to prove just how fractured the European Union is right now.
Will the events of the past couple of months lead to the undoing of the European Union?
Will the 750 billion EUR bailout provide a long-term solution or just delay the inevitable?
Can countries such as Ireland, Greece, Spain, France, Portugal and others enact severe austerity measures that would allow them to satisfy the 3% deficit limit mandated by the Maastricht Treaty?
Can the EU persevere through these trying times, or is it now doomed to fall apart?
The next couple of months are going to be very interesting..
Chart:
Yahoo Finance EUR/USD
Filed under:
The Economic Meltdown