Who is Elon Musk?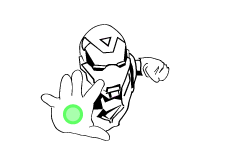 When the "Iron Man" movie franchise was first being conceived by Jon Favreau, he reportedly wasn't sure how to make the main character, Tony Stark, "come to life."
Favreau asked Robert Downey Jr., the man who had been cast to play superhero Tony Stark, what his thoughts on the matter were.
"We need to sit down with Elon Musk," Downey Jr. reportedly told Favreau.
Musk ended up being the inspiration for Robert Downey Jr's take on the Tony Stark character in the "Iron Man" franchise, and even made a short appearance in "Iron Man 2".
--
If the name Elon Musk rings a bell, it's probably because you heard about the Tesla Motors IPO on the evening news tonight.
Musk is the CEO and Product Architect of Tesla Motors, a company which had a very big and splashy IPO earlier today. Tesla, which is a developer and manufacturer of electric-power vehicles, priced its shares at $17 on Monday evening and ended up closing at $23.89 on its first day of trading.
Elon Musk is now a very rich man once again.
--
Elon Musk was born in South Africa in 1971. As a child, Musk taught himself how to program computers, a skill that would prove to be very useful (and lucrative) for Musk in his later years.
After immigrating to Canada in 1989, Musk worked odd jobs (lumber mill, farm work) before deciding to attend the University of Pennsylvania in 1992. Musk actually ended up graduating with two undergraduate degrees from the university (Economics and Physics) before deciding to begin his graduate studies at Stanford.
Musk's stay at Stanford was only a short one (two days), as he eventually decided to drop out and start Zip2, a company "which provided online content publishing software for news organizations".
The company was acquired four years later by Compaq for nearly $350 million, in what was Musk's first big payday.
--
Most people would have been content to lie on a tropical beach somewhere after selling a company for that much money, but Musk was quickly back to work on his next idea - X.com.
X.com was an online payment company that would end up being the foundation for Paypal.com. In 2001, X.com changed its name to PayPal, and in 2002, Ebay acquired Paypal for $1.5 billion in stock.
Musk, who owned more than 10% of Paypal's shares, was now even wealthier.
--
Next up for Musk - SpaceX.
SpaceX is a company that is trying to manufacture and develop low-risk, low cost launch vehicles and spacecrafts. Musk has a stated intent of reducing the cost of human spaceflight dramatically so that we can eventually colonize other planets to prevent the extinction of the human race.
Musk has sunk approximately $100 million of his own fortune into SpaceX. In addition, the company recently (December of 2008) received a massive $1.6 billion contract from NASA.
--
Another company that Musk is deeply involved in - Tesla Motors.
Tesla Motors, as mentioned, is the designer and developer of electric cars such as the Tesla Roadster and Model S, which is a four-door family sedan that will be sold at a price that will be affordable to the average family.
Musk originally invested in Tesla Motors in 2004, and was named CEO of the firm in 2008.
The company, as mentioned, went public earlier today and made Musk a very rich man (once again). Musk reportedly owns 28 million shares of the company, which makes his stake worth nearly $700 million based on today's closing price.
--
As part of the initial public offering, Musk sold a small percentage of his shares in Tesla to help raise some cash for himself.
Raise some cash? How could a man who made hundreds of millions of dollars in the Paypal and Zip2 transactions possibly need cash?
To start, Musk has invested a substantial amount of his personal fortune in both SpaceX and Tesla Motors. Tesla Motors has lost a tremendous amount of money since its inception, and somebody needed to help bankroll the company's losses during its early days.
In addition, Musk has a significant amount of his net worth tied up in other illiquid assets such as stakes in venture capital firms, etc.
To top it all off, Elon Musk is currently in the midst of divorcing his first wife (Justine Musk) and will likely need to part with a significant amount of his fortune as part of the settlement.
These three things conspired to leave Musk "cash poor" (by his own admission), despite a number of investments and equity holdings that made him, at least on paper, a very rich man.
By selling a small portion of his holdings in Tesla Motors earlier today, Musk raised the cash needed to support his very expensive lifestyle.
It reportedly costs about $200,000 per month to be Elon Musk.
--
As a self-admitted workaholic, it's hard to see Elon Musk slowing down anytime soon. He is still relatively young (39 years old), and is clearly an extremely ambitious person.
His life has taken a very interesting path so far, and it will be interesting to see where he goes next.
Source:
Elon Musk Wikipedia Page
Source: Techcrunch.com -
Tesla CEO Elon Musk To Sell Nearly One Million Personal Shares at IPO
Source: Davemanuel.com -
TSLA Quote
Filed under:
General Market News