Which Online Brokers Should You Trust?
Click Here To Check Out My Favorite Online Broker, Questrade!
This isn't some empty "recommendation" or "review" of an online broker that I have never used.
If you ask me "Hey Dave, which online brokers are the best?", I can only recommend brokers that I have actually used - brokers that I have actually opened accounts with.
Over my time as an online trader, I have used a wide array of different companies. Some companies that I loved are no longer with us, swallowed up by larger companies that ruined the software forever.
Other companies have popped up, and I have heard such good things about them that I had to try them out for myself.
I have three brokers that I can recommend without blinking an eye - Questrade, Interactive Brokers and ThinkorSwim.
I have used all three of these brokers for years. I still maintain active accounts at all three brokerages.
Do I trust these three online stock brokerages? Yes.
Would I recommend these online brokerages to a family member? Yes.
Would I sign up for these brokerages again? Yes.
Here are some quick thoughts about each of the three brokerages:
--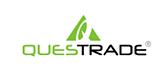 Questrade
- I opened up an account with Questrade many years ago (back in 2000 I believe). At the time, Questrade was a fairly small online brokerage that was just starting out in the world. Since then, Questrade has grown in leaps and bounds, but they have still managed to maintain that "small brokerage" feel (meaning, plenty of attention).
Questrade is based in Canada, but they still accept clients from nearly every country in the world. Questrade is a well-run operation that has many good people working at the company. Commissions are reasonable, and the company has a number of innovative offerings.
--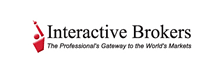 Interactive Brokers - if you are the type of person that likes to have a very bare bones set-up (in terms of a software package), then IB is probably for you. There are no bells and whistles with Interactive Brokers, but the advantage of using their operation is that their commissions are very low.
Interactive Brokers also provides its customers with an API, meaning that you can build add-on applications to help in your trading if you are so inclined (or use other people's publicly available applications).
Interactive Brokers is a publicly traded company as well, if that type of thing is important to you.
--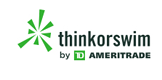 ThinkorSwim
- ToS (or ThinkorSwim) was acquired by TD Ameritrade about a year ago. Some companies tend to suffer after being acquired by larger firms, but this hasn't been the case for ThinkorSwim (at least in my experience).
ThinkorSwim has a pretty fanatical following, especially amongst the option traders community. ThinkorSwim has also been able to build their following by:
a) listening to their customers
b) quickly attending to customer service issues
ThinkorSwim is like the Apple of online brokerages - a larger company that has been able to build a tremendously loyal client base through innovation and strong customer service.
--
These are just my opinions, based on about 12 years' worth of trading online. Always do your own due diligence when selecting a broker.
Filed under:
Company Reviews