"Token Settlement" Sends Shares of Goldman Sachs Soaring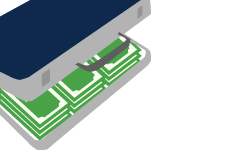 Could a $550 million settlement actually be good news for a company?
In the case of Goldman Sachs, yes.
Shares of Goldman Sachs were sent soaring earlier today after word leaked that the company would soon be announcing details of a proposed settlement with the Securities and Exchange Commission (SEC).
Earlier this year, the SEC brought civil charges against Goldman Sachs and Fabrice Tourre, alleging that investors in certain mortgage securities had been misled.
The SEC alleged that Goldman Sachs hadn't told investors in the mortgage securities that John Paulson, noted hedge fund manager, had actually had a hand in selecting the mortgages that would be included in the offerings. Paulson, who would eventually go on to make billions of dollars shorting the US subprime mortgage market in 2007, was actively cherry-picking the mortgages that he felt would be most likely to fail, a fact that wasn't explained to investors in the securities.
You can read more about the case here.
Goldman Sachs acknowledged that the marketing materials for the securities had omitted key info, but they did not admit any legal wrong-doing.
Of the $550 million that Goldman Sachs will be forced to cough up, $300 million will be paid to the SEC, while $250 million will be paid to two of the firms who lost money in the deals.
As the New York Times points out, this was a "token settlement" for Goldman Sachs that was far less than what most analysts had been predicting. Many had figured that Goldman Sachs would end up paying out at least $1 billion, if not much more.
As many in the media have pointed out today - this settlement works out to about 15 day's worth of profits, based on Goldman's 2009 net income numbers.
How do I know that this settlement was good news for Goldman Sachs? Just look at their shares, as that will tell you the entire story.
When news of the settlement started to leak, shares in Goldman Sachs quickly rallied from $140 to about $145. When details of the settlement were formally released during after-hours trading, GS shares continued to spike, and are currently trading at about $152 per share.
Many people figured that this case would be the end for Lloyd Blankfein, but it certainly appears as though he will remain in charge at Goldman.
Goldman is not out of the woods yet, as more lawsuits (from investors) could be around the corner.
However, this settlement today should put a halt to the negative news flow that has been dogging Goldman Sachs for months, and that was always the company's main concern.
Source: New York Times -
SEC Settling Its Complaints With Goldman
Filed under:
General Market News