Federal Reserve Officials Expect That It Will Take "Some Time" For US Economy To Return to Normal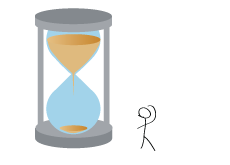 Earlier this week, the already-jittery markets were rattled when the minutes of the June 22-23 FOMC (Federal Open Market Committee) were released.
During these meetings, Federal Reserve officials discuss the current state of the economy and try to decide what (if any) actions they should take going forward.
In the June 22-23 meeting, a couple of words were included in the minutes of the meeting that managed to roil the financial markets.
"Most expected the convergence process to take no more than five to six years."
Federal Reserve officials act like a thermostat that keeps the temperature in your apartment or house at a moderate and comfortable level.
These Fed officials have preferred optimal levels of unemployment, inflation and output growth that they would like to see from the economy.
If the economy is running too hot, then these Fed officials will turn on the air conditioning (usually through interest rate increases) in an attempt to cool things down.
On the other hand, if the economy is not growing fast enough (according to their policy goal), then the Fed will turn up the heat in an attempt to kick-start the economy (this is normally done through interest rate reductions).
So, what these Federal Reserve officials are saying is that they believe that it will take "no more than five to six years" for the economy to heat back up to a normal rate (that means, optimal rates of unemployment, growth and inflation).
For people who had been hoping that the US economy would suddenly catch fire, these comments are certainly like a slap in the face.
So what do these comments mean in practical terms for the average American citizen?
They mean that the national unemployment rate is likely to remain quite high for an extended period of time. They also mean that economic growth in the country will likely lag the "optimal" rate of growth for some time as well.
These words just help to cement what most people already knew - that the US economy continues to struggle and will likely struggle for an extended period of time.
Source:
Minutes of the Federal Open Market Committee, June 22-23, 2010
Filed under:
The Economic Meltdown